07/27/2020
Israel: A Home Away from Home
Article reprinted with permission from Cleveland Jewish News
by Sarah Marek, Special to the CJN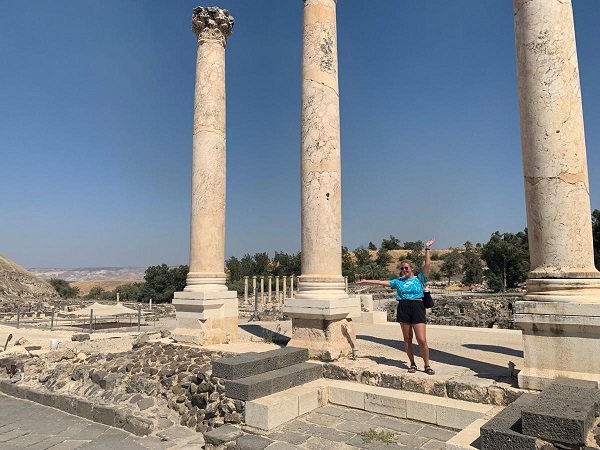 I'm stronger. I'm independent. I'm lighter. I'm heavier. I've said yes. I've gained perspective. I've learned. I've grown.
Listed above are the ways that I have seen myself change as an outcome of my time in Israel. My experience in Israel as a Masa Israel Teaching Fellow, which was split between Beit Shean and Tel Aviv, has led to changes within me that I could not imagine.
After graduating college, I was looking for a change in perspective and a chance to take time for myself before entering the work force, so I moved to Beit Shean in August 2019 to teach English in the local elementary schools. MITF is a program for recent college graduates to teach in cities in Israel that suffer from poor English acquisition. I chose Beit Shean, which happens to be Cleveland's sister city, but there are 14 unique locations to choose from. I went on this program because I wanted to make a difference after graduating from college and do something off the beaten path. MITF was a perfect fit for me because it gave me a chance to live in Israel and experience the vibrancy of the country like a local.
Beit Shean is a small town, but to me it felt huge. When I arrived, I didn't know any Hebrew. Very few people speak English in Beit Shean, so this felt like an enormous barrier. I remember going to the supermarket and not knowing what the cashiers were asking me as I checked out. But more than this – my students were afraid of my lessons because they did not understand me.
Little by little, my ulpan classes did their job and I was able to direct my students in Hebrew. I could tell them to read this or write that. Very importantly, I could ask them if they understood what I had just said to them.
Words cannot describe how much breaking down this barrier meant to the students. The students' ability to feel comfortable around me fundamentally shifted their attitudes toward me. They now ran up to me in the hallways screaming "I love you" or "Hello, how are you?" This changed everything about my time in Israel.
I never in a million years thought I would feel connected to people from all over the world in the way I have. But after living in Israel, it is clear to see how much we can learn from each other. Curiosity is a beautiful thing and I think starting with curiosity can lead to valuable insights.
Getting a deeper connection to the people of Israel is invaluable. After my time in Beit Shean, I spent the remainder of my fellowship in Tel Aviv. It was an incredible opportunity to experience both the hometown, slow-paced feel of Beit Shean and the lively cosmopolitan city of Tel Aviv through one Masa program that helps students gain confidence in their English language skills.
Now that I am back in Cleveland, I work for Horizon Education Centers as its summer health and wellness Americorps member. I truly believe that Masa helped foster my career development and realize my passion for seeing kids learn.
So many young people are uncertain about what their fall plans will look like. During this time of uncertainty, now could be a good time to take part in one of Masa's many programs. I found the teaching fellowship to be the right opportunity for me, but Masa's programs range from interning at an Israeli company, to studying at a top Israeli university, to enjoying hands-on volunteer work, and much more.
If you're not sure which program is right for you, reach out to Rivki Ebner at the Jewish Federation of Cleveland at rebner@jcfcleve.org or 216-593-2921. She's an excellent resource that can help you find your perfect Israel experience.