11/20/2015
"Israel: Land & Identity" Exhibit Opens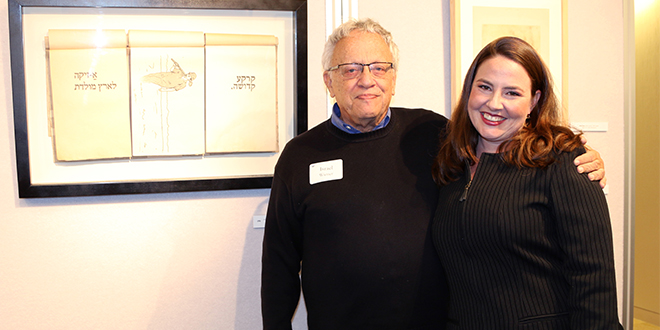 An important new exhibit has opened at the Jewish Federation of Cleveland's Roe Green Gallery. On November 19, Israeli curator Emma Gashinsky and collection owner Ofer Levin joined nearly 75 Clevelanders in an intimate setting to share the story behind "Israel: Land & Identity," a historical panorama of 46 works by Israeli artists created between the early 1900s to today.
"Before we begin," said Hedy Milgrom, Chief Development Officer for the Federation, "Please join me in a moment of silence for our five brothers and sisters who died in an act of terror today. We would be remiss not to acknowledge their loss on the very day we open this exhibit about land and identity."
The exhibit is timely. As Erica Hartman-Horovitz, Co-chair of the Federation's Cleveland Israel Arts Connection said of the many programs the group has produced and supported, "This exhibit is like a culmination. It explains in a meaningful way what makes Israeli art Israeli. Our identity is in this exhibit."
This is the first time the collection has travelled outside of Israel, which is an outcome of a year of collaboration between collection owner Ofer Levin, curator Emma Gashinsky, Erica Hartman-Horovitz and the Federation's Cleveland Israel Arts Connection staff.
The goal was to introduce people in Cleveland to the complexity of Israel through visual arts and the concept of "Land and Identity" was born. Levin's full collection is more than 2,000 pieces and the 46 selected for this exhibit look at land and identity through a Jewish lens.
"Land is a focal point in Israeli identity," said Gashinsky."Self-determination is very clearly divided. You can see the Zionistic ideology, a united pioneering, from early nineteenth century to the sixties. Then, there was a change, after the Yom Kippur war there was a flourishing of conceptual art acknowledging shedding off the identity of diaspora. For many years we were overlooking the Jewish identity and then we went back to our roots," she explained.
Relative to its population, Israel is the largest immigrant-absorbing nation on earth. "There is a place for everyone," said Gashinsky. "Even though there is conflict there is always love."
Israel: Land & Identity runs through May 2016. For more information and to schedule group tours, please contact israelarts@jcfcleve.org or call 216-593-2856.
We invite you to view the photos from the Patron Event on our Facebook page.
A few moments captured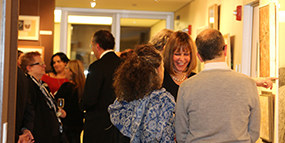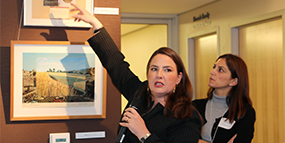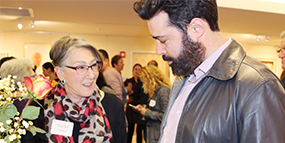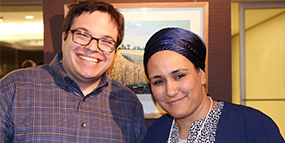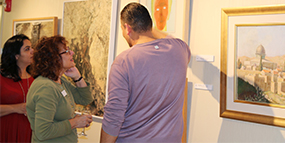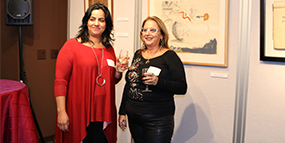 ---
Related Items