11/12/2015
Israel Philharmonic Orchestra Preview
Israel Philharmonic Orchestra en route to Cleveland for 'Violins of Hope' concert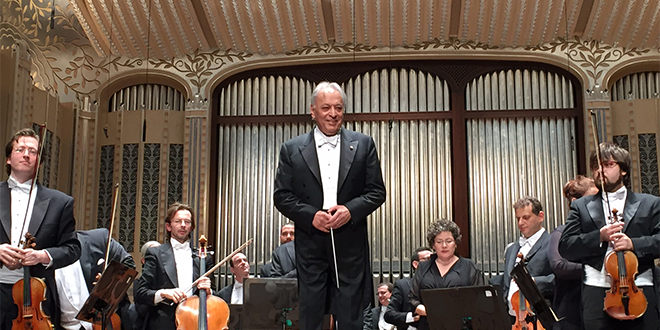 The Jewish Federation of Cleveland is thrilled to be partnering with Case Western Reserve University, the Maltz Museum of Jewish Heritage, the Cleveland Orchestra, ideastream, and the Cleveland Institute of Music for Violins of Hope. Read the article below to learn about the upcoming Violins of Hope concert, as performed by the Israel Philharmonic Orchestra.
Article Reprinted with permission from Cleveland.com
by Zachary Lewis, The Plain Dealer
CLEVELAND, Ohio – "Violins of Hope" is about to get even more interesting. In addition to the ongoing exhibition and concerts that have taken place so far, the project is about to include an appearance by the Israel Philharmonic Orchestra, with its longtime director, Zubin Mehta.
On Monday, in keeping with the vision of "Violins of Hope" champion Milton Maltz, the group will perform at Severance Hall. Four members will play instruments featured in the exhibition, rescued and restored from near destruction in the Holocaust.
It is distressing when we see people maim and cut others intentionally with their words. I once encountered a friend of my parents at a restaurant. She told me she had been enduring a stressful house-sale negotiation. Then she added an emphatic warning, "Never sell to Koreans." Offended, I admonished, "Isn't that what people say about us Jews?"
"We're happy to take part in it," said Mehta, in a brief telephone interview from India. "We like new challenges."
Few ensembles better exemplify the spirit of "Violins of Hope" than the Israel Philharmonic, last heard here in 2004 with conductor Yoel Levi. Founded as the Palestine Orchestra in 1936, just before the war that entailed the Holocaust, the group not only endured – like the violins – but went on to flourish and become one of Israel's leading cultural institutions. Mehta was named music director in 1977, and has served in that capacity ever since.
Monday's program also ties in well to the project. In addition to Ravel's "La Valse," the orchestra will perform Dvorak's Symphony No. 9, based on the composer's adopted "New World," and a 2005 symphonic poem titled "Journey to the End of the Millennium," by Israeli composer Josef Bardanashvili.
"The public in Israel, they gave it a rip-roaring ovation," Mehta said of the latter. "The orchestra loves it, too."
What's more, on this occasion, the performance is only half the experience. Two hours before the concert Monday, two figures closely affiliated with the project will present a pre-concert talk titled "Violins of Hope: A Journey to Cleveland."
Author and "Violins of Hope" curator James Grymes will sit down with radio host and author Martin Goldsmith, son of a former Cleveland Orchestra member featured in the exhibit, and discuss the journeys made by Jewish musicians to orchestras all over the U.S. Books by both authors will be available for purchase and signing.
For more information, go to clevelandorchestra.com.
---
Related Items
Related Items