06/21/2019
Israel Security Trip Provides Bonus for Law Enforcement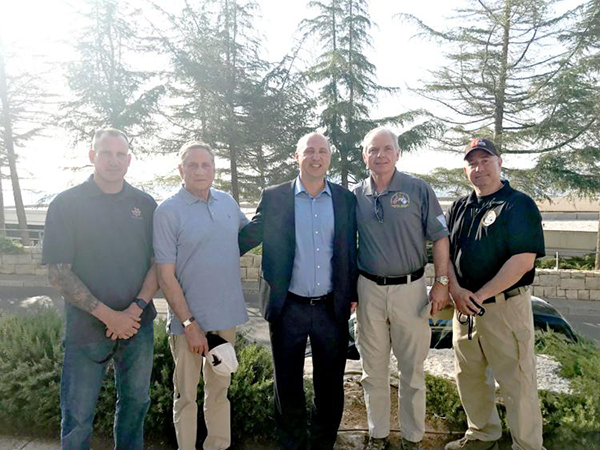 Article reprinted with permission from Cleveland Jewish News.
ALYSSA SCHMITT | STAFF REPORTER
A recent trip to Israel geared for law enforcement did more than reinforce the need of current practices for Solon Police Chief Christopher Viland, it opened up communication between police chiefs of major cities with large Jewish populations.
Viland joined 21 other law enforcement personnel from Cleveland, Cincinnati, Detroit and Pittsburgh and their surrounding suburbs and the security directors from each city's federation for the trip sponsored by Israel's Ministry of Diaspora with support from each city's federation.
"We took the trip with officials from three other different cities," Viland said. "Those are American officials that we would otherwise not have had the opportunity to network with and share information. Not only was it a good trip to learn and share with Israeli officials, but the fact that we had an opportunity to learn and share with some of the other similarly situated people here in the Midwest, including some of the officials who responded to the Pittsburgh synagogue shooting last fall. ... That was an additional bonus of this trip."
Oren Baratz, senior vice president of external affairs for the Jewish Federation of Cleveland, and Bart Bookatz, president of Berkowitz-Kumin-Bookatz Memorial Chapel in Cleveland Heights and chair of the security committee for the Federation's board of trustees, were also part of the trip, which took place May 19-24. Beachwood Police Chief Gary Haba, Orange Police Chief Christopher Kostura, Pepper Pike Police Chief Joe Mariola, Euclid Police Capt. Mike Janson, South Euclid Police Lt. Rick Friedl and Nick DiCicco, assistant team commander EDGE SWAT team director, also attended along with Cmdr. Harold A. Pretel, the deputy chief of homeland special operations in Cleveland.
The trip involved law enforcement that handles Jewish communities on a daily basis, Baratz said. He said the trip helped create a shared language and understanding of security between federation security personnel and its respective police chief. "It also helps create a sharing of experiences and know-how from different federations," he said. "In addition, the camaraderie and trust which is created between all the participants based on the shared experience also has its positive effects and ability to continue advancing the level of security of Jewish communities."
The group traveled through Israel, visiting cities like Ashkelon, Jerusalem and Tel Aviv to speak with Israeli safety professionals.
"A lot of the specifics of what we learned actually only reinforced many of the things and techniques that we're currently doing," Viland said. "We were able to specifically look at responses to actively critical incidents. And in comparison, much of what we do is in line with much of what's done there. And that just reinforces that we're all operating at a high level of best practices."
In one part of the visit, the group saw how Israel handles mass-casualty situations at a national emergency medical dispatch center, which is where Viland saw how Israeli citizens view security.
"The one thing that really, really stuck out to me is how much the civilian population in Israel takes security, safety and response as their own personal responsibility," Viland said. "Very often, it's a civilian or a volunteer or security guard that is not from the government that is a first responder to an incident. ... Much of the EMS response throughout the whole country includes about 60% of volunteers as first responders. That's just amazing to me how individuals take safety and security as their own job."
Viland said Israeli citizens feeling as if safety is their own personal responsibility is a cultural change and not one that could transfer to Solon. However, he noted the idea gave him a better perspective and is something he could use in future situations.
While communication between the various police departments of the participating cities would happen, Viland said this trip expedited the process. He said there are plans for the departments and federations to meet and debrief to continue an open dialog. will do the rest."
---
Related Items