06/09/2022
Israeli Artist Brings Healing Urban Art Creations to Cleveland
Article reprinted with permission from Canvas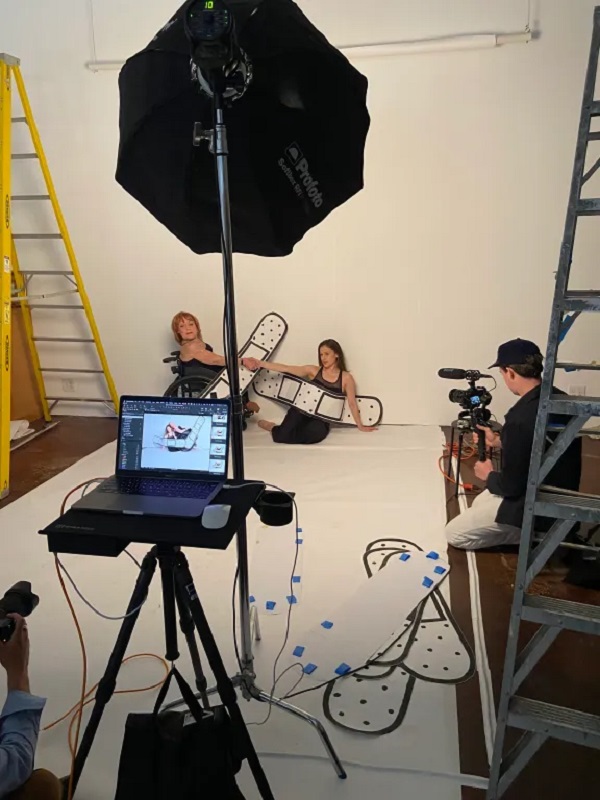 AMANDA KOEHN
Northeast Ohioans are beginning to see the street art creations of Tel Aviv-based urban artist Dede Bandaid at various locations around the Cleveland area, with the aim to help heal the local arts community after years of hardship amid the COVID-19 pandemic.
Dede and his partner Nitzan Mintz visited Cleveland on the invitation of the Jewish Federation of Cleveland's Cleveland Israel Arts Connection. He developed his installations to feature images of Northeast Ohio visual and performing artists and leaders. Into each image, he incorporated his signature band-aid graphics as a symbol for healing amid the trauma that's faced the art community as the pandemic shut down galleries and performances around the world.
On May 24 in an office park in Beachwood, Dede and his collaborators photographed the artists for the installation. He told Canvas, which was invited to observe the process, he was happy to work in Cleveland for the first time after being asked by the Federation to bring his well-known visual narration to life here.
"I think this project can fit anywhere," said Dede, who conceals his face and identity to the public. "The whole world has been affected by the pandemic and this was the inspiration for this specific project, when all the musicians and artists from different fields couldn't perform or exhibit their works or be seen – I felt at least. Me and Nitzan, my partner … we both felt very strongly the urge to be in touch with the audience, to keep sharing our concept, ideas."
The process began with photographing the artists in several different poses. Then, the edited images were printed via the Cleveland Institute of Art's Digital Output Center and cut out. They were installed in early June, with clusters of the cutouts at various significant locations. QR codes were to be attached to the images for passersby to scan and bring up information about each organization and artist featured.
The Cleveland Israel Arts Connection refers to the project as Culture Fix CLE: Healing Our Community Through the Arts, in collaboration with the international arts triennial FRONT, taking place throughout the area from July 16 to Oct. 2.
The goal of Culture Fix CLE is to not only reflect healing during the pandemic, but to build cultural bridges between Israeli and American art, and connect the community to the theme of tikkun olam or repairing the world.
The Cleveland Israel Arts Connection brings Israeli artists to Cleveland in partnership with other fine art organizations to help facilitate these kinds of connections. The idea to bring Dede to town came as committee member Sara Hurand worked on an upcoming exhibit at its Roe Green Gallery in the Federation's Beachwood building, and Dede kept popping up on her list of artists to exhibit. The confluence of FRONT and the pandemic created the right opportunity to bring him in, according to the Federation.
During Canvas' visit to the May 24 photo shoot, dancer Mary Verdi-Fletcher, Dancing Wheels president and founding artistic director, prepared her outfit with Celina Speck, a full-time company member with Dancing Wheels. The pair were photographed, drawing attention to Dancing Wheels, a downtown Cleveland-based professional dance company that unites dancers with and without disabilities.
As the photo shoot went on, Dede tried several different poses and angles for the dancers to display cutout paper band-aids. While the other artists photographed laid in front of the lights and camera, Verdi-Fletcher and Speck were upright as to incorporate Verdi-Fletcher's wheelchair.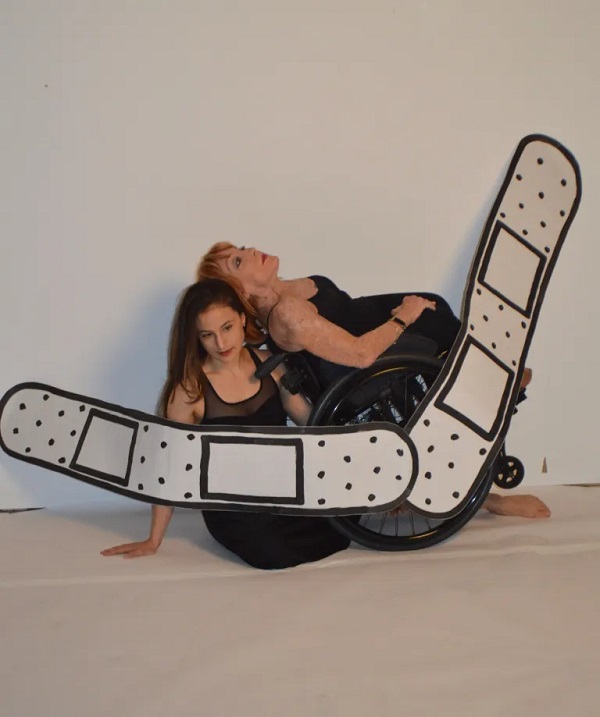 Verdi-Fletcher said Dede and his team showed creativity in setting up the scene.
"When I was approached, I felt it was a meaningful project and made a big statement in terms of arts and culture, and so I eagerly wanted to be a part of it," she said, adding that inclusion and diversity are important aspects of the arts everywhere and Dancing Wheels has prided itself on inclusion for 41 years.
Susan Wasserman, who is on the Cleveland Israel Arts Connection's advisory group, was capturing video of the project she hopes to make into a documentary.
"It's such a unique process that Dede is working on," said Wasserman, a Cleveland-based producer who works on film, television and plays. "We've never seen anything like it, taking a cross section of people that are creative in a lot of different ways from dancers to artists to singers to actors, and hope to enhance what he's doing with these band-aids. Which is that the pandemic really slowed down everyone's work or stopped it, especially in the arts. So now … we need to be healed, and the band-aid is a symbol of healing."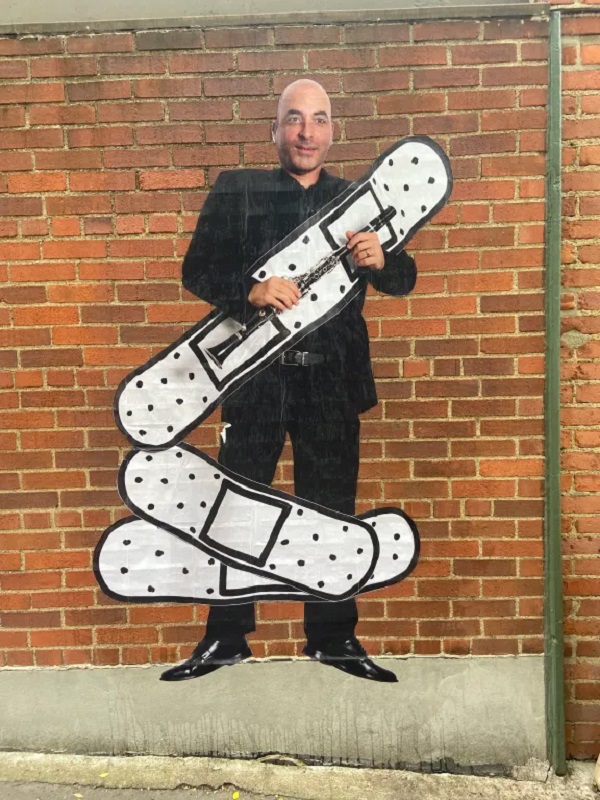 In addition to Verdi-Fletcher and Speck, other local artists and community leaders participating include Roe Green, honorary producer with Cleveland Israel Arts Connection, musician René Schiffer, activist and author Loung Ung, visual artist Antwoine Washington and photographer Amber Ford.
Dede first started using the band-aid symbol in street art after he finished his mandatory service in the Israel Defense Forces. He served in the air force for four years and was looking for a way to visually express himself and the trauma he endured, he said. He used band-aid imagery in graffiti all over Tel Aviv and eventually around the world.
It was during the pandemic when he and Mintz began incorporating people into the images. Hearing the stories of those photographed helped inspire the project's meaning, he explained.
"We really want to talk with the people to understand their stories because it affects sometimes the composition or the idea or position or anything," he said.
In each city Dede has created in, different artists and collaborators bring their own variations to the project, keeping it constantly interesting and changing, he said.
"I think we could keep doing it everywhere and every place you get different results and different artists, which brings their personal side into the story to change the collaboration," he said. "These collaborations lead to greater things. We find people here who you couldn't find at home and they are all unique talents."
---
Related Items