05/16/2023
Israeli Delegation Visits At-Risk Populations in Cleveland
We were pleased to bring to Cleveland two different Israel-based programs for at-risk youth that we have partnered with for many years. Youth Futures is a mentoring program for children and their families across Israel's periphery, and the IDF Education Corps provides life skills and other training needed for young adults from difficult backgrounds to lead productive lives. Below is a Cleveland Jewish News story about one of the events during the delegation's visit.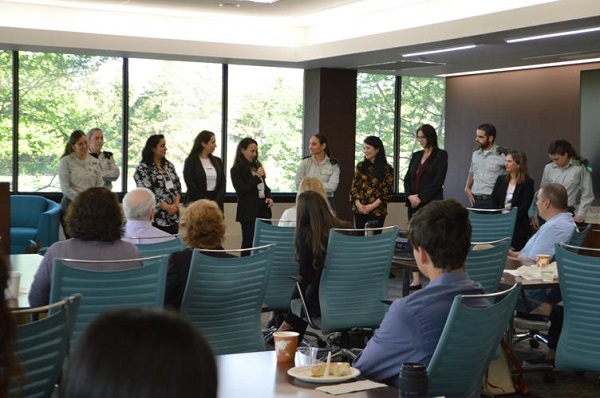 COURTNEY BYRNES
Article reprinted with permission from Cleveland Jewish News
The Jewish Federation of Cleveland hosted a delegation of professionals from the Israel Defense Forces Education Corps and Youth Futures from May 7 through May 15 as they visited programs in Cleveland for at-risk populations.
The delegation visited the Federation in Beachwood May 12 with about 70 community members for a breakfast as Einat Tal, COO of Youth Futures, shared how Youth Futures works with at-risk young children and their families, and Lt. Col. Liron Menashe Hershko, commander of Havat Hashomer base, spoke about the special IDF training base for 18- and 19-year-olds from difficult backgrounds.
"These two programs are longstanding partnerships with our Cleveland Federation," Scott Simon, chair of the Jewish Federation of Cleveland's overseas connections committee, said as he welcomed the crowd. "And this week they have been here experiencing some of the programs that we have here to share their expertise, but also to learn from our local organizations as I mentioned Saint Martin de Porres and America SCORES, Bellefaire and many other places this week."
Youth Futures was established in 2006 and serves in 38 locations, 12,000 children and their families, and 160 schools with 300 mentors. As mentors work with 16 children and their families over three years, they come to know the whole family and help highlight the children's strengths.
"We work in the social and geographical peripheral of Israel, and we want to give the people courage to change their life," Tal told the audience. "We want them to fulfill their potential, to get their dreams. We believe in them."
Tal introduced Lital Gabay Golan, Youth Futures manager of Beit Shean, Cleveland's sister city, who shared the story of a young girl and how her mentor was able to be there for the entire family as they went through a difficult time.
Then, Hershko addressed the group to share the history and work at Havat Hashomer. While basic training for the army typically last three weeks, the training at Havat Hashomer takes 10 to 12 weeks as the base provides life skills and basic military discipline and training to soldiers from difficult backgrounds, oftentimes with criminal records or dysfunctional families.
"Most of the time (these soldiers) believe that they have no place in Israeli society," she said. "Everybody gave up on them – the social worker gave up on them, their teachers gave up on them, a lot of the time even their parents gave up on them. For the first time in their life, they are meeting someone who says, 'No matter what, I'm not going to give up on you.'"
The training teaches them the values of responsibility, discipline and the love of Israel, while providing them with tools and resources for their relevant professions, she said. During the training, the at-risk youth are provided with support as basic as three meals a day to access to doctors, social workers, dentist and psychologist.
As the delegation came to town for Yom Ha'atzmaut for the first time since 2019, the 11 delegates also took part in several community celebrations, including a Lag b'Omer celebration May 8 at Gross Schechter Day School in Pepper Pike, the Shalva Band's performance Map 9 at Mimi Ohio Theatre in downtown Cleveland and IsraelFest May 14 at the Mandel Jewish Community Center in Beachwood. The 11 delegates also visited local synagogues and shared a Shabbat dinner with host families May 12.
Ruthie Avadayer, a regional manager with Youth Futures, told the Cleveland Jewish News she joined the organization during its pilot year as a mentor and now is responsible for 10 cities to train staff and managers. This year, she said she started a soccer program with children in Israel, and so, she was very interested in the work of America SCORES and the chance to connect with such an organization.
She also spoke about the work of Bellefaire JCB as the delegation visited this week and learned of all its programs.
"I think they are doing a perfect job in Cleveland, they're touching everywhere and we can only learn from this place," she said.