08/29/2022
Israeli Glass Artist Kaffeman Showcased at Federation, CIA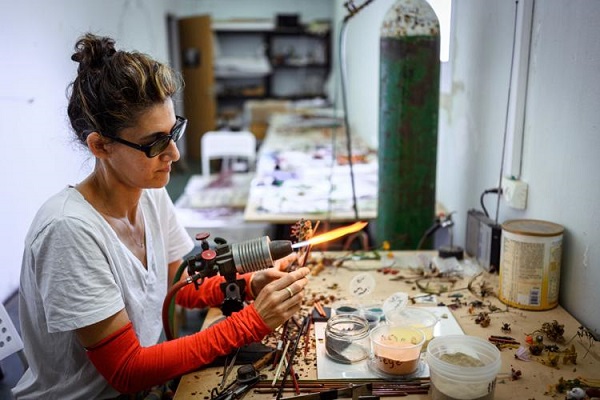 by Courtney Byrnes
Article reprinted with permission from Cleveland Jewish News
As her exhibition "If You Thirst for a Homeland" is on display at the Jewish Federation of Cleveland's Roe Green Gallery in Beachwood, the Federation will bring Israeli glass artist Dafna Kaffeman for a one-week artist-in-residence stay from Sept. 6 through 11.
During her stay, she will be meeting with students at the Cleveland Institute of Art for a morning workshop. Kaffeman will also speak at a public lecture Sept. 9 at the CIA's Peter B. Lewis Theater and the Federation will have a community open house of the exhibition on Sept. 11.
"This will be the first time I visit Cleveland and I am looking forward to it," Kaffeman wrote to the Cleveland Jewish News in an email "When I was young I wanted to make art so that I could travel with it in the world. I still am very excited when this happens."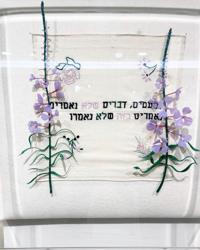 The senior lecturer at the glass and ceramics department at Bezalel Art Academy in Jerusalem has completed artist residencies, exhibitions and guest lectures around the world.
Her work on display at the Federation consists of several series of works from different periods of her career, as early as 2006 to newly made in 2021, she wrote. In her Tel Aviv studio, she creates flame-work glass plants and insects, a process that she said can take months, and often combines them with text from literature or from written or spoken media printed or embroidered on soft, white fabric.
"For the past 20 years, I have been developing a botanical lexicon made of glass, combined with text, through which I examine the political social situation in my region," Kaffeman wrote, adding that her inspirations come from text and nature.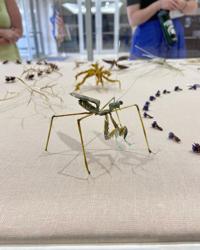 As she meets with students during her stay, Kaffeman hopes to share some of her knowledge in not only techniques, but from her experience of the creation process.
"I am hoping to work with them on their creativity, which can take form in any media," Kaffeman wrote. "I would like to discuss with them activism in art, social political elements in art and the connection between different media."
"If You Thirst for a Homeland" was co-curated by Trudy Wiesenberger of the Cleveland-Israel Arts Connection, a program of the Federation, and Carolyn Swan Needell, the Chrysler Museum of Art's Carolyn and Richard Barry Curator of Glass in Norfolk, Va., where it was on view prior to coming to the Beachwood gallery.
While she brings her art and knowledge to Cleveland, Kaffeman is looking forward to seeing and learning about the art and culture of this new city.
"I am looking forward to seeing art: exploring the art museums and other venues and to understand the culture in the area," Kaffeman wrote. "I never traveled to the area before and I think it will be very interesting for me."
If You Go
WHAT: Lunch on Fridays: Dafna Kaffeman
WHERE: Cleveland Institute of Art's Peter B. Lewis Theater, 11610 Euclid Ave., Cleveland
WHEN: 12:15 to 1:30 p.m. Sept. 9
INFO: For more information, visit bit.ly/3Rgx7O0
WHAT: Community Open House
WHERE: Jewish Federation of Cleveland's Roe Green Gallery, 25701 Science Park Drive, Beachwood
WHEN: 1 to 3 p.m. Sept. 11
INFO: jewishcleveland.org