09/02/2016
Israeli, Local Chefs Collaborate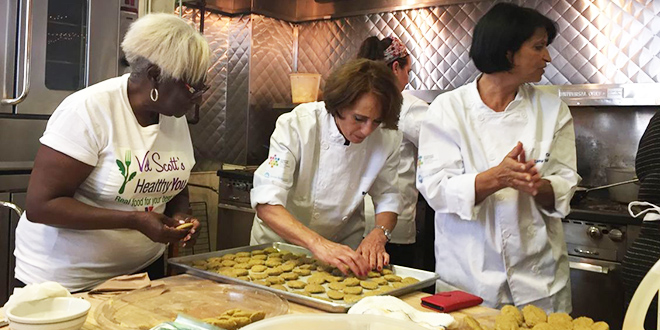 Article reprinted with permission from Cleveland Jewish News.
By Amanda Koehn
Etty Valinaamat usually opens her home to cook for others. In addition to being a high school baking teacher, she runs a bakery in her hometown of Beit Shean, Israel, where guests are invited to "eat and pray."
Valinaamat and two other chefs from Beit Shean – Cleveland's sister city – brought their dishes to Cleveland's St. Clair Superior neighborhood to cook with local chefs at the Slovenian National Home on Sept. 1. About 30 people attended the private event, where chefs created dishes inspired by their diverse heritages.
"The meeting tonight is to see other cultures – to eat and speak together," Valinaamat said. "Shalom, or peace in the world, can come through your stomach."
Valinaamat and her Israeli colleagues, Hanna Agiv and Bat Zion Yona, made two types of pita to serve with baked falafel and several large skillets of shakshuka. The dining room and open kitchen smelled of fresh garlic and baked dough, with a hint of sweetness, likely from the blintzes the chefs quickly stuffed with vanilla cream just before guests arrived.
The dinner was the product of a new partnership among the Jewish Federation of Cleveland, the St. Clair Superior Development Corporation and Bridge to the Future. The St. Clair Superior Development Corporation is a community development group covering the culturally diverse neighborhoods of St. Clair Superior, AsiaTown and the Quarter Arts District. Bridge to the Future is a community organization created by the Federation in Beit Shean. The Israeli chefs are visiting Cleveland for nine days to participate in Federation events. They will be at the Gross Schechter Rib Burnoff Sept. 5.
"We are actually planning a program with exchange of staff and community activists from both sides to learn from one another and teach one another," said Oren Baratz, a senior vice president of the Federation.
"I am excited that the Jewish community is paying attention to the city I love," said Scott Garson, a member of the Federation's community relations committee. Garson works for Allegro Real Estate Brokers & Advisors in Cleveland and has worked in the inner city for nearly 30 years. The highlight of the event for him was the bonding of the Jewish community with the larger Cleveland community.
"Too often, I feel that our community is insular geographically, and I think that there's been missed opportunities to contribute to the greater good of the city of Cleveland," Garson said. "This effort is a great step forward."
Local chefs also made dishes inspired by their heritages, including a white gazpacho (Spanish) made with garlic, almonds and bread, and a flaky, vegan portabella strudel (Croatian).
Local entrepreneur Vel Scott, who holds workshops on healthy and sustainable cooking, made a cabbage dish that was garnished with heads of peppers to limit waste.
Scott said she and the other chefs naturally bonded over their passion for healthy food.
"It bridges our differences," Scott said.
---
Related Items