01/17/2019
Israeli, Palestinian Build Understanding with Roots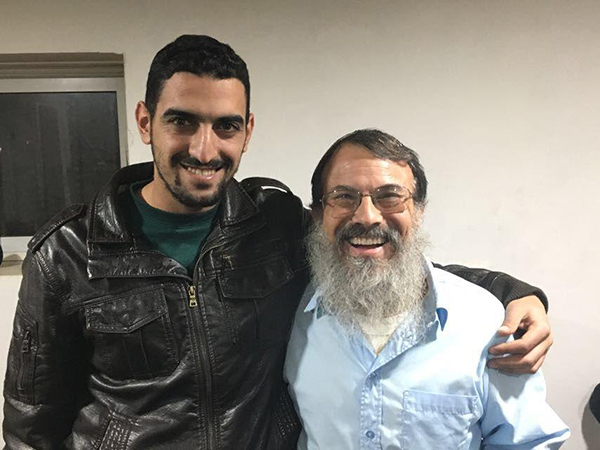 Israelis and Palestinians in the West Bank often live in close proximity, but separate worlds. In some cases, they understand little of the other but hold various suspicions. One organization is hoping to bridge those worlds through understanding and to change that dynamic.
Roots/Shorashim/Judur -– meaning "roots" in English, Arabic and Hebrew – is a grassroots organization that brings Israelis and Palestinians of all ages together through music therapy, summer camps, after-school activities and other meetings.
Roots co-founder Rabbi Hanan Schlesinger, 61, will visit Beachwood with Roots Palestinian youth director Shadi Abu Awwad, 27, Jan. 22 as part of the Jewish Federation of Cleveland's annual Community Relations Committee meeting and Sidney Z. Vincent Memorial Lecture to share their stories of understanding the other side and Roots' efforts to achieve that understanding. During the meeting, the committee will also share how it builds relationships across diverse communities and helps mobilize people into action.
Schlesinger, an Orthodox teacher and passionate Zionist, lives in Alon Shvut, Israel, but a few years ago he realized while he and his Palestinian neighbors might share the roads, they knew little to nothing about the other. He described his lack of knowledge as a blemish, and in hopes of removing it, he went in search of starting a dialogue.
"I went on a journey to meet my neighbors. It was extremely difficult because we have no connections around here. We speak different languages, we live in different towns and cities, different education systems, different economies, different calendars ... everything is separate except for the roads we drive on," he said.
To start his journey, he posted a request to meet his neighbors on Facebook. What he got was a message from a pastor from West Virginia who has a Christian ministry that comes to the West Bank twice a year to introduce Palestinians and Israelis to each other. The pastor gave instructions to Schlesinger as to where and when he could find a meeting, and Schlesinger went.
"I saw something that doesn't happen around here, I saw something impossible, a miracle – I saw 15 Israelis and 15 Palestinians talking to each other in a formal get together," he said. "And that was the beginning of the next stage of my life."
Roots was founded in 2014, though Abu Awwad was hesitant to join at first. He's the grandson, son and nephew of Palestinian leaders at the helm of the First Palestinian Intifada, the Palestinian uprising that started in 1987, and growing up, he said he held hatred toward Israelis.
The hatred slowly dissipated as he grew up, he said. He reasoned that he didn't hate Israelis because of their religion or their culture, but because of the conflict of who has rights to the land. Realizing no one on either side was going to leave the land, he knew there needed to be an understanding between the two sides and that he had to become willing to speak to Israelis.
His first meetings consisted of Israelis from metropolitan areas and they got along. However, he noticed there wasn't any progress after these meetings until Roots started its own meetings. He credits Roots' success to its ability to work directly with the people living in the West Bank.
"In our case, we're talking to the people who are local, who live daily together," he said. "They're the people who are really controlling this conflict because all of the things that are happening are starting from here."
Abu Awwad is from Beit Ummar in the West Bank but recently moved to Columbus to start a business. He was the last of his family to join Roots but has since facilitated meeting with teenage Palestinians and Israelis to help build a new generation of leaders.
---
72nd Annual Meeting of the Community Relations Committee & Sidney Z. Vincent Memorial Lecture
WHEN: 7 p.m., Jan. 22
WHERE: Mandel Jewish Community Center of Cleveland's Stonehill Auditorium, 26001 S. Woodland Road, Beachwood
INFO: Rabbi Hanan Schlesinger and Shadi Abu Awwad of
Roots/Shorashim/Judur, a grassroots movement to bridge Israelis and Palestinians, will speak on their journey of understanding. The committee will share how it bridges local communities.
---
Related Items