05/04/2016
Israeli Singing Star Rita at Yom Ha'atzmaut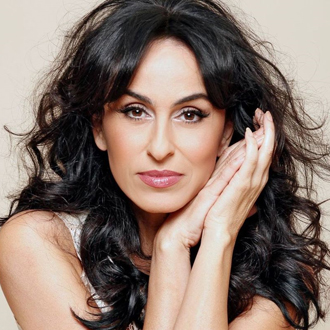 by Ed Wittenberg 
Article reprinted with permission from Cleveland Jewish News.
Rita, a native of Iran who is one of Israel's most famous female singers, is trying to create a bond between Iranians and Israelis through her music.
"Music can do a lot of things that politics cannot do," she said in a telephone interview from her home in Tel Aviv. "Politics ruins relationships between people and countries, but music connects them, and it is our duty to let people understand we are all the same and we need and desire the same things. That is what I am trying to do."
Rita will perform at 7:30 p.m. to highlight the Jewish Federation of Cleveland's communitywide Yom Ha'atzmaut celebration May 12 at Executive Caterers at Landerhaven in Mayfield Heights. The Federation is partnering with more than 50 local Jewish organizations, including the Cleveland Jewish News, at the event marking Israel's 68th Independence Day. It begins at 5:30 p.m.
"We will celebrate and dance and sing and be in a really good mood, because this little country has a lot of problems and a lot of enemies, and we should celebrate our country together," said Rita, who has never performed in Cleveland before.
Rita, whose full name is Rita Jahan Foruz, was born in Tehran, Iran, and emigrated with her family to Israel at age 8. She has been singing professionally for 30 years.
"Persian is my native language, but I grew up in Israel, so I speak better Hebrew than Persian," she said. "My mother used to sing to us in Persian during my childhood; it's something that is in my blood."
Rita, 54, said she sings mostly "pop-rock," but she likes to try different kinds of music, including classical, Italian arias and opera. Most of her songs May 12 will be in Hebrew, "the hits from my career," she said.
"I think music heals and cleanses your soul," said Rita, who will be accompanied by an 11-piece band. "It's like a shofar to the soul. It has a very big role in our lives.
"It's like a prayer, because it has vibration to the spiritual. This will be a celebration of life."
The family-friendly event includes arts and crafts for children. Kosher foods will be for sale. Guests can also learn an Israeli dance and tour an Israeli shuk (marketplace), where vendors sell jewelry, exotic spices and handmade wares.
The Yiddishe Cup klezmer band will perform from 5:30 to 7:30 p.m.
Event co-chairs are Lindsey and Yoel Mayerfeld and Sarah and Scott Zimmerman. Vice chairs are Wendy and Danny Spitz.
---
WHAT: Jewish Federation of Cleveland's Yom Ha'atzmaut celebration
WHEN: 5:30 p.m. May 12. Concert by Rita begins at 7:30 p.m.
WHERE: Executive Caterers at Landerhaven, 6111 Landerhaven Drive, Mayfield Heights
COST: Free and open to the community
INFO: No backpacks or large purses will be allowed. Limited guaranteed seating is available online. To RSVP for the concert or other events, visit jewishcleveland.org/events.