06/28/2019
Israeli Troupe Davai Takes Center Stage at BorderLight Festival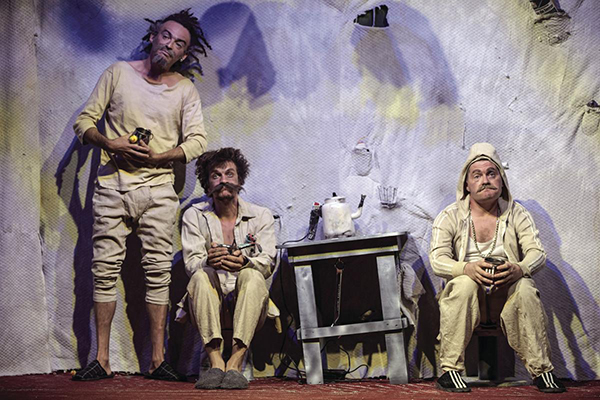 Article reprinted with permission from Cleveland Jewish News.
BOB ABELMAN | COLUMNIST
Shakespeare believed that all the world's a stage, but only Edinburgh, Adelaide, Prague and a dozen or so other world cities offer international theater and fringe festivals. Add Cleveland to that list.
From July 24-27, more than 100 artists from nine countries – Israel, United States, Bolivia, Canada, Ireland, Mexico, South Africa, South Korea and Syria – will perform 40 different productions at indoor and outdoor venues from Playhouse Square to Public Square during the inaugural BorderLight: Cleveland International Theatre + Fringe Festival.
Several events are special collaborations between visiting international artists and some of our city's most celebrated theatres, including Cleveland Public Theatre, Karamu House, Dobama Theatre and Cleveland Play House.
"A festival like BorderLight affirms Cleveland's place on the cultural map as a destination for the arts," said Dale Heinen, who shares the duties of festival co-founder and co-director with Jeffrey Pence. "Cleveland's rising reputation, our outsize theatrical capacity – not one, but two, theatre districts (Playhouse Square and Gordon Square) – and our nationally recognized performing arts institutions make it the ideal location."
According to Pence, the plan is to grow BorderLight into "a signature annual festival promoting Cleveland as an international city of artistic innovation and border-crossing conversation."
This year, an Israeli comedy troupe called Davai will be part of that conversation. Its 70-minute slice of absurdist, nonverbal storytelling, titled "Under Construction," will be making its U.S. premiere. The performance piece is about three eccentrics in a crammed, run-down flat as they desperately wait for tea as the world falls to pieces around them. This production, called "virtuoso clownery" by The Jerusalem Post, is sponsored by the Jewish Federation of Cleveland's Cleveland-Israel Arts Connection.
"'Under Construction' was born from an early sketch in which a clown was waiting for the kettle to boil," wrote Fyodor Makarov, one of the troupe's founding members, in an email from Tel Aviv. "The crammed building in which we had our studio was surrounded by construction works and every once in a while we would find that another building in our street was missing, torn down. The creative process was directly inspired from our immediate surroundings."
Davai consists of Losha Gavrielov, who directs, Vitaly Azarub, whose expertise is in clown technique and circus skills, and Makarov, who is the master of movement and, in his own carefully-chosen words, the "mediator of the working process."
"Our mission," said Makarov, "is to create poetic theatre that surpasses cultural boundaries and stirs the audience's imagination. We believe that art has no nationality, although we are aware of the controversial image our country has in the world. It is important for us to show that there are more things happening (in Israel) than hatred and violence, and that we have a great art scene."
Hedy Milgrom, who oversees the Cleveland-Israel Arts Connection, said, "Israel is a hotbed of artistic creativity and talent, and Jeff and Dale are well aware of its reputation as one of the strongest theater hubs in the world. Our team started meeting with the BorderLight Festival team three years ago in an effort to bring world-class Israeli art and artists, like Davai, to Cleveland."
"We are excited to take part in this inaugural event and we will use our clown superpowers to make sure this festival has a grand kickoff," Makarov said.
A complete list of festival performances, times and venues can be found at borderlightcle.org. A review of "Under Construction" will be posted on the CJN website.
---
BorderLight International Theatre + Fringe Festival
WHAT: "Under Construction" at BorderLight Cleveland International Theatre + Fringe Festival
WHERE: Helen Rosenfeld Lewis Bialosky Lab Theatre, 1501 Euclid Ave., Cleveland
WHEN: July 25 (6:30pm), July 26 (6:00pm), July 27 (1:00pm & 9:00pm)
TICKETS & INFO: $30, visit borderlightcle.org for a complete list of festival performances, times, and venues.
---
Related Items