01/04/2022
January: Collection of Hygiene Items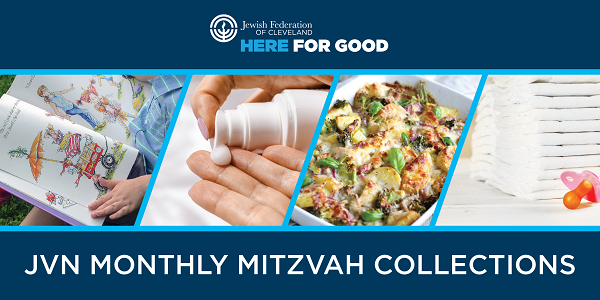 Start off 2022 by caring for those in need with the Jewish Volunteer Network! As the community continues to deal with the ongoing effects of COVID-19, we are working with local human service agencies to identify ways to help at-risk members of our community and the vulnerable throughout Greater Cleveland. Together we can support these individuals by donating much needed items each month.
A great opportunity for individuals and families of all ages to do a mitzvah together.
Registration is required.
January: Collection of Hygiene Items
Sunday, January 23
10 am – 1 pm

Drop off:
Federation back parking lot
25701 Science Park Drive
Beachwood, OH 44122
New hygiene and toiletry products are critical items for youth participating in Bellefaire JCB's Homeless and Missing Youth program and Foster Care program. These youth who are in need of crisis intervention and case management will gratefully appreciate receiving the following items: 

• Shampoo/Conditioner
• Body Wash
• Body Lotion
• Deodorant
• Brush/Comb

Who are we helping: Bellefaire JCB's Homeless & Missing Youth Program and Foster Youth Program participants
New Drop-Off Procedure: Our volunteers' safety is our #1 concern. For added security at drop-off, our Federation security guard will check off your name from our registration list prior to dropping off your donation at the garage in the back of our building.

All ages are welcome.
For more information, contact Susan Hyman at 216-593-2887 or shyman@jcfcleve.org or Jessica Semel at 216-593-2874 or jsemel@jcfcleve.org.