04/21/2022
JCC Krakow Visit Spurs Pozniak to Return as Wolf-JDC Fellow
COURTNEY BYRNES | STAFF REPORTER
Article reprinted with permission from Cleveland Jewish News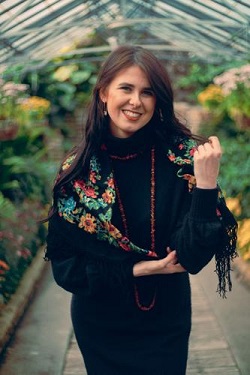 For Klementyna Pozniak, this year's Wolf-JDC International Fellow selected by the Jewish Federation of Cleveland in Beachwood, becoming a fellow in Krakow, Poland, has been a goal of hers for the past seven years.
Pozniak recalled visiting the JCC Krakow in 2014 with her mother and first learning of the fellowship. On that visit, she met the executive director and Cleveland native Justin Kadis, the first Jewish Service Corps fellow in Krakow, and inspired by the commitment to rebuilding Jewish life in Poland, was determined to follow the same path.
"From that point on, I kind of made it my mission for the next seven years to get back to Krakow," Pozniak told the Cleveland Jewish News. "And the next step that I took in that process was to intern here (at JCC Krakow) in 2017, and I spent three months, the whole summer after my undergraduate year, here in Krakow working with the programming team, working on the big events that they have."
Pozniak spent her early childhood between her birthplace in Krakow and Wroclaw, before spending most of her adult life in Cleveland. She is a member of B'nai Jeshurun Congregation in Pepper Pike and celebrated her bat mitzvah at Agudath B'nai Israel in Lorain.
As an undergraduate, Pozniak served as an engagement intern with the Cleveland Hillel Foundation and was involved with Hillel at Baldwin Wallace University in Berea.
She came even closer to her goal of becoming a JSC fellow in Krakow during the pandemic when she served as the JSC@home fellow for JCC Warsaw for six months.
"That was one of the best things that happened to me during the pandemic," Pozniak said. "My life really got thrown for a loop. Originally, I won the Fulbright scholarship, and everything just kept getting delayed."
She worked with JCC Warsaw remotely to create social media content and worked on a presentation for overseas donors to see the work being done in the community.
In September 2021, she achieved her goal and made it back to Krakow as the Wolf-JDC International Fellow, where she reunited with old friends and will serve for a full year.
"It's really been one of the best experiences ever," Pozniak said. "I feel comfortable and very happy here. I don't question if I belong in this community because I feel like, in a sense, if I could have stayed here, I would have my whole life. This feels like home."
In her current role, she said she wears a lot of hats, working with the development team to write grants for overseas donors, serving as a proofreader and translator as an English and Polish speaker, and writing the weekly newsletter sent to overseas members.
"I really want people to know that there is Jewish life in Poland because it's a very common misconception that Jewish life ended during the Second World War here, and I think it's very important that everyone sees the memorials," Pozniak said. "... But I also think that it's incredibly important to understand that there is life after that. Every day we're building a future here."
The Roslyn Z. Wolf Cleveland-JDC International Fellowship is part of a cohort of nine JDC Entwine Global Jewish Services Corps Fellows sent around the world to address global issues through JDC and its partners. Applications are open for the 2022-23 fellowship program. To apply, visit jdcentwine.org/volunteer/jsc.