06/15/2022
JDC, Jewish Agency Update Community on Ukraine Relief Efforts
Article reprinted with permission from Cleveland Jewish News.
By Courtney Byrnes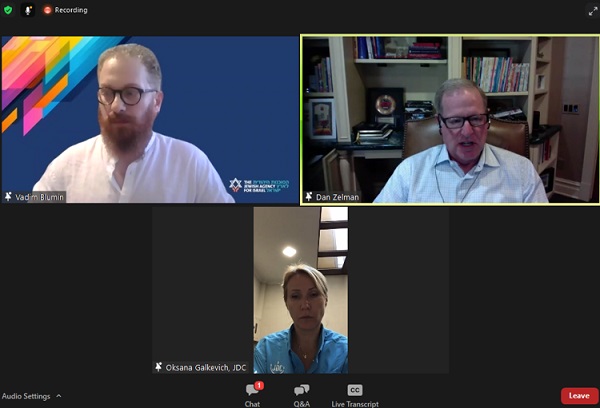 The Jewish Federation of Cleveland held another community briefing with its overseas partners, the American Jewish Joint Distribution Committee and The Jewish Agency for Israel, June 8 as the war in Ukraine passes the 100-day mark.
Dan Zelman, vice chair of the Jewish Federation of Cleveland in Beachwood, moderated the conversation with Oksana Galkevich, deputy director of field operations for JDC in the former Soviet Union, and Vadim Blumin, director of educational strategy for The Jewish Agency for Israel as they discussed the work being done in Ukraine, the surrounding areas and in Israel.
Zelman, Federation President Erika Rudin-Luria, vice chair James Ratner, Jewish Federations of North America President and CEO Eric Fingerhut, and Mandel Foundation President Jehuda Reinharz participated in a trip to Poland about a month ago to see the work of the federation partners to help Ukrainian refugees. Fingerhut grew up in Cleveland and also lived in Columbus.
The group met with refugee families in centers set up by the JDC and The Jewish Agency for Israel, many who were waiting to make aliyah to Israel, and were receiving help from the organizations to plan their next steps.
"It was just all amazing to see how quickly that we could spring into action and made you proud to be a part, whatever small part we play out of Cleveland, the money that we send over there and the time we spend nurturing these relationships and supporting our overseas partners," Zelman said. "It just made us all really proud to say that we're part of this and we're helping all this take place in the face of all this hardship that people are suffering."
He also shared an update on the Federation's Ukraine Emergency Relief Fund, which has raised just shy of $3.5 million from 1,362 donors and including a $1 million match from the Jack, Joseph and Morton Mandel Foundation.
Galkevich and Blumin shared an update on the work their respective organizations are conducting to help Ukrainian refugees.
"The JDC, with your support and your help, continues the vital operations in Ukraine," Galkevich said. "I must say that we never have stopped for a single day, we never have stopped any single service to our clients. Yes, some of those services were moved online, but the most basic services like homecare, like material support, food and medications, we continued to provide where we can of course, and where we could not, we started to deliver humanitarian aid into the country."
She said the first cargo of humanitarian aid was sent to Ukraine March 8 and since have brought close to 500 tons of humanitarian assistance into Ukraine. The JDC has also set up additional hotlines to monitor the Jews and Jewish communities it serves, arrange evacuations, and get the aid to those in need.
The JDC has provided aid to more than 38,000 refugees and evacuated nearly 13,000 Jews from Ukraine.
Blumin spoke about the The Jewish Agency for Israel's efforts to help the over 24,000 Jews making aliyah from Eastern Europe to reimagine their life in Israel and adjust to the new country by finding housing, employment and Hebrew education. The JAFI plans to resume summer camps and Jewish Day Schools in the Former Soviet Union this summer and fall.
"As the war started, we immediately brought back all those teachers, and now for the next school year, we're sending them back in a joint project with the Ministry of Education in Israel, but not to Ukraine of course, to the surrounding countries," he said. "We're talking about Hungary, Romania, Bulgaria, Germany, of course and others."
Galkevich and Blumin answered questions relating to helping refugees who have gone through trauma and the support they are receiving. The briefing concluded with a short update from Rudin-Luria who, with Jeffrey Wild, recently returned from a trip to Ethiopia and took part in a flight of Ethiopian Jews making aliyah.
"During Operation Tzur Yisrael Chapter Two, which is what this aliyah is called, we will be a part of bringing 3,000 people to Israel," she said. "And the Cleveland community can proudly say that we've had a long history of advocacy for and supporting our brothers and sisters in Ethiopia."