02/24/2016
Jewish Camp in FSU
Jewish Camp in Former Soviet Union All the More Meaningful
by Jonah L. Rosenblum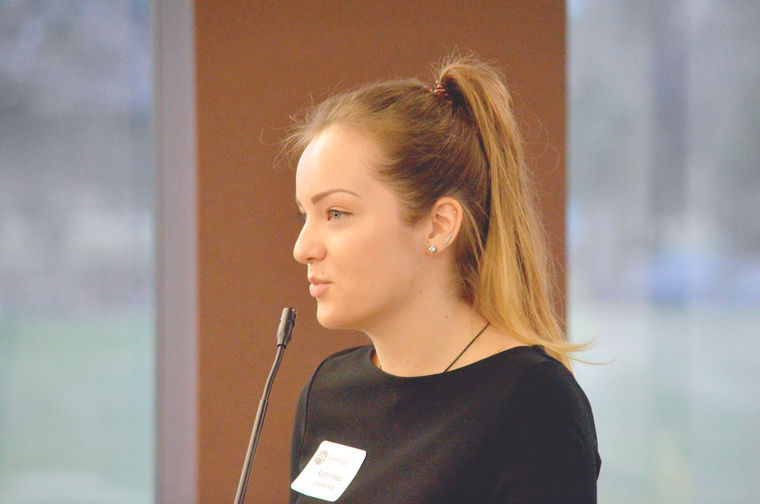 Article reprinted with permission from Cleveland Jewish News.
Many Jewish children in the former Soviet Union grow up unaffiliated.
Summer camp, as discussed earlier this month at the Jewish Federation of Cleveland's Mandel Building in Beachwood, is a key way for those Jews to connect with their heritage.
About 25 people took that lesson directly from the source as two camp counselors with the Jewish Agency for Israel, Kateryna Grybtsova and Vita Krivyakova, shared their experiences. Grybtsova, of Dnipropetrovsk, Ukraine, and Krivyakova, of Tomsk, Siberia, both stem from unaffiliated families.
For Grybtsova, her father did want to send her to Jewish school, but the school she went to, a Chabad school, wasn't the right fit. "The result of this situation was I didn't want to be related to Judaism at all," Grybtsova said.
Camp changed that.
"'What's going on? I can't understand.'" Grybtsova recalled thinking. "It surprised me so much and it really changed my life."
She has been involved with the Jewish Agency as a camp counselor and teacher for several years.
"Israel is very much home, but I'm much more needed in Ukraine," Grybtsova said.
Krivyakova had a similar story to tell. Religion wasn't a key part of her childhood.
"I knew I was Jewish, but I never felt anything about it, anything special," Krivyakova said.
Even her first visit to Israel failed to change that – "it was just a country with a sea." Sunday school was merely a history class – interesting but not particularly personal.
A camp experience helped change that.
"I didn't know anything about Judaism," Krivyakova said. "They opened a new huge world in front of me."
She was a counselor at Siberian summer camps, moved to St. Petersburg in 2012, and in her third year there, joined the Jewish Agency's staff, with its activities center. She joined after seeing an agency advertisement on Facebook. She now works with kids in the areas surrounding the city, teaching dance, Jewish cooking and more.
Much of this agency work has been helped by funds from the Jewish Federation of Cleveland, according to Natalie Schnaiderman, director of development and activities for the Jewish Agency for Israel. That includes supporting hundreds of campers, more than 100 Birthright trips and more than 100 Sunday school students in Northwest Russia.
"I am really grateful to you for your help and your support," Krivyakova said.
That was one message – one of gratitude.
Eti Ganin, a member of The Temple-Tifereth Israel in Beachwood, drew a different message. Given Grybtsova's original negative experience with Chabad, she worried that in the former Soviet Union, there's a sense that it's either Chabad or nothing. She said she loves Chabad, but expressed hope that Jews there could have options.
"Chabad is not the only one," Ganin said, suggesting Conservative and Reform congregations step up their efforts in Northwest Russia. "I think we could do more."
Regardless of denomination or strain, Ilanit Gerblich Kalir, managing director of international operations for the Jewish Federation of Cleveland, said successful engagement is critical.
"Unless it's something that's magnetic, that captures the imagination, it's not going to work," Kalir said.
As for why Grybtsova and Krivyakova came all the way to Cleveland, Barry Feldman, chair of the Jewish Federation of Cleveland's St. Petersburg partnership committee, put it well.
"We can't share it as well as you do, because it comes from your heart," Feldman said, as he adjourned the meeting. Some stories simply have to be told in-person.
---
Related Items