12/08/2022
Jewish Clevelanders Raise a Record $34,870,821 in this Year's Community Campaign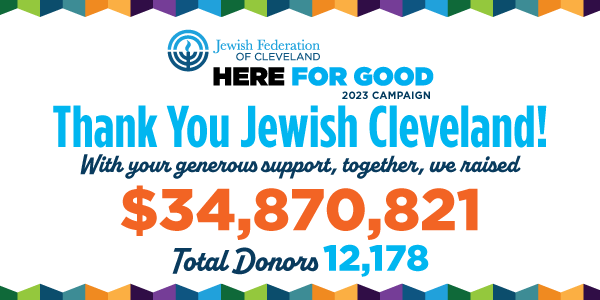 The Jewish Federation of Cleveland announced that a record $34,870,821 has been raised by 8,890 gifts – including 1,896 new gifts to the Campaign – representing 12,178 donors in the 2023 Campaign for Jewish Needs, the annual fundraising campaign that serves Jewish Cleveland and the global community.
Additionally, through a generous match opportunity from the Jack, Joseph and Morton Mandel Foundation, the community has raised $5,558,812 for the Federation's Ukraine/Ethiopia Emergency Rescue Fund to date. Likewise, 806 new donors participated in an incentive program sponsored by Brunswick Companies designed to inspire more household giving to the Campaign. These totals were shared at the Campaign Closing Celebration at Joseph and Florence Mandel Jewish Day School on December 7.
"The Campaign for Jewish Needs is a special time for our large and diverse community to come together and say 'we are here for each other and we are here to make a difference,'" said Beth Wain Brandon, chair of the 2023 Campaign for Jewish Needs. "The dollars raised during this year's annual Campaign will change and improve lives for tens of thousands of people, and that is due to the tremendous generosity of our Jewish Cleveland community."
"The commitment our community has to supporting Jews living in Cleveland and around the world is something we can be proud of," said Daniel N. Zelman, Federation board chair. "On behalf of our board of trustees and our community, I sincerely thank Beth Wain Brandon and all who volunteered across our diverse community for driving this year's Campaign to such extraordinary heights!"
Brandon will remain general chair for next year's Campaign for Jewish Needs. In this volunteer role, she is responsible for providing leadership, vision, and strategy for the Federation's annual fundraising effort.
In addition to highlighting the community's various accomplishments of the 2023 Campaign, attendees also recognized Rachel Glickman, recipient of the 2022 Ambassador Milton A. and Roslyn Z. Wolf Young Campaigner of the Year Award.
For more information about the Jewish Federation of Cleveland and the Campaign for Jewish Needs, visit www.jewishcleveland.org.
---
2023 Campaign for Jewish Needs Totals:
Total Dollars: $34,870,821
Total Donors: 12,178 donors representing 8,890 gifts
New Gifts: 1,896
Young Leadership Division raised $641,196 from 1,135 donors.
Women IN Philanthropy raised $4,836,854 from 3,083 donors.
High School/College/Juniors raised $59,692 from 1,010 donors.