08/01/2022
Jewish Federation of Cleveland to Launch 2023 Campaign for Jewish Needs with First-Ever Super Sunday Kickoff on August 28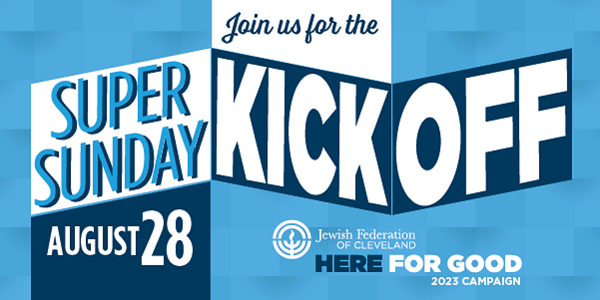 The Jewish Federation of Cleveland is launching the 2023 Campaign for Jewish Needs on Sunday, August 28 with a Super Sunday like never before with the first-ever Super Sunday Kickoff! Funds raised will benefit the Campaign for Jewish Needs, which is the Cleveland Jewish community's annual fundraising campaign that serves the local and global Jewish community.
"Super Sunday has been a longstanding tradition within our community for many decades," said Beth Wain Brandon, general Campaign chair. "It is one of the most vibrant and energetic days of the year in Jewish Cleveland, where we come together as a diverse community to raise dollars for those who need it most. I cannot think of a better way to launch this year's Campaign than to host a day-long event that celebrates all that makes Jewish Cleveland so special."
The Federation is the only organization in Cleveland that considers the needs of the Jewish community as a whole and plans for its future. 91 cents of each dollar donated goes directly to the community. The 2023 Campaign for Jewish Needs will conclude on December 7, 2022.
Super Sunday Kickoff attendees will:

Join hundreds of community members to raise funds for the Campaign for Jewish Needs
Enjoy kosher food, children's activities, outdoor games, and more
Explore and learn about Federation's beneficiary agencies and how they impact Jewish Cleveland
Super Sunday Kickoff will take place from 9 am to 5 pm on Sunday, August 28 at the Jewish Federation of Cleveland's Jack, Joseph and Morton Mandel Building (25701 Science Park Drive in Beachwood). Family activities will begin at 1:30 pm. Attendees can come to the event for a few hours or all day as their schedule allows. Kosher food will be provided throughout the day.
Matching Gifts Programs Designed to Help Ukrainian/Ethiopian Jews; Encourage Family Giving
This year's Campaign will feature a special matching gift opportunity by the Jack, Joseph and Morton Mandel Foundation. Known as the "Mandel Match," every new or increased gift to the 2023 Campaign will create a matching gift from the Mandel Foundation to the Ukraine/Ethiopia Emergency Rescue Fund up to $1.5 million. "With this generous match, our community members will be able to continue to fund the critical programs and services throughout our diverse community while simultaneously providing life-saving support to Jews in Ukraine and Ethiopia," Brandon continued.
This year's Campaign also will feature an incentive from Brunswick Companies, who will contribute an additional $180 gift to the Campaign for every family that makes a new gift of any amount in the name of each household family member to the 2023 Campaign. "We've seen time and again how it takes all of us – working together – to make a difference. Campaign is no exception. Through this year's 'Brunswick Bonus', we hope to further encourage all family members to make an individual gift," explained Brandon. Super Sunday Kickoff sponsors are KeyBank, Benesch Attorneys at Law, Cleveland Jewish News, and Cleveland Jewish Funerals. KeyBank will match new and increased pledges dollar for dollar on Super Sunday Kickoff.
For more information, visit www.jewishcleveland.org, email supersunday@jewishcleveland.org or call 216-593-2909.