10/19/2018
JNFA GA Bridges Gap Between Diaspora, Celebrates Hoffman's Legacy
Article reprinted with permission from Cleveland Jewish News.
By Alyssa Schmitt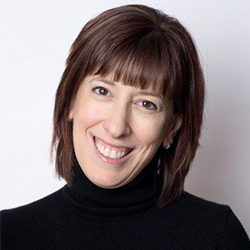 Since Israel's establishment 70 years ago, Israel and the diaspora haven't always seen eye to eye on some topics. As the Jewish Federation of North America prepares for its general assembly Oct. 22-24 in Tel Aviv, it's prepared to dive deeper into what divides and ultimately connects American Jews and Israel.
Erika Rudin-Luria, incoming Jewish Federation of Cleveland president, said she sees many Jewish Clevelanders care about Israel, but with that care comes concern about challenges facing Israel and concern on how an individual or community can have a positive impact on Israel.
"It's important to explore such topics at the (general assembly) and it's equally important to make sure these types of conversation continue at the local level," she said by email on her way to Israel. "Israel is beautiful and complicated. As Jewish Clevelanders, we must lean into the complexity and understand the issues from various political perspectives and Jewish backgrounds."
This year also will mark a momentous moment as Stephen H. Hoffman, the Federation president who will step down at the end of the year, will be honored for his work spanning more than three decades.
"Steve has been the instigator behind programs created to help Ethiopian preschoolers integrate and succeed in school and at-risk youth succeed in Israeli society," Rudin-Luria said. "It is a fitting forum to recognize all the ways in which Steve has made life better in Cleveland, Israel and around the world."
Israeli dignitaries, national Jewish leadership, leadership from the Jewish Agency for Israel, Joint Distribution Committee, and others who have worked closely with Hoffman throughout his illustrious career will celebrate his legacy with a dessert reception Oct. 22.
Rudin-Luria said Cleveland Jews should keep an eye out for the plenaries as she expects this year they will give insight into challenges and successes in our world, divergent political viewpoints and cultural and religious expressions. This year, attendees will hear from leaders like Israeli Prime Minister Benjamin Netanyahu, Israeli President Reuven Rivlin and Isaac Herzog, chairman of the Israeli Labor Party, as well as philanthropists, entrepreneurs and activists.
"These sessions also provide greater context into how social entrepreneurs have been created in different communities in Israel and throughout the world," Rudin-Luria said.
---
Related Items