03/22/2016
Joseph C. Mandel dies at 102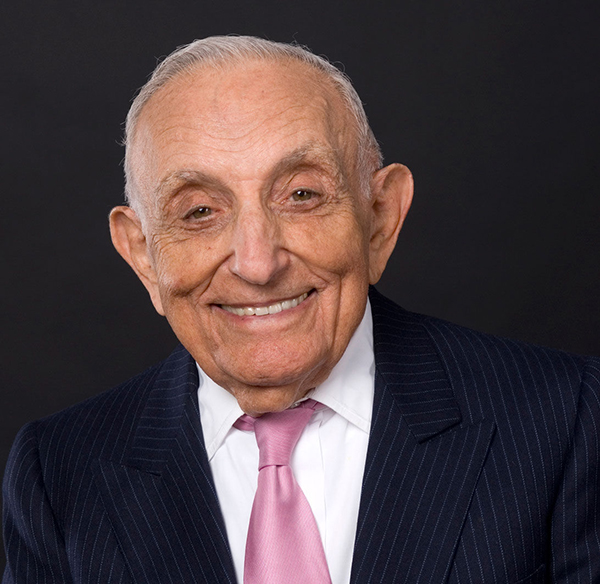 Article reprinted with permission from Cleveland Jewish News
By Bob Jacob
Joseph C. Mandel, business leader, philanthropist, co-founder of the Premier Industrial Corp., Parkwood LLC, and the Jack, Joseph and Morton Mandel Foundation, died March 22 in Palm Beach, Fla. He was 102.
Mandel an honorary life director of the Cleveland Jewish Publication Company, which publishes the Cleveland Jewish News.
"He was my partner since 1940 in business until fairly recently when he became indisposed. He was my partner in philanthropy since probably 1950," Morton L. Mandel, chairman and CEO of Parkwood LLC, said of his middle brother March 22.
"He and my brother Jack (who died in 2011) were my two best friends; I would say they were my closest friends. His last few years were not good years and he can rest now. He had a wonderful disposition, he was exceptionally creative, and he was a rock," said Mandel, speaking from his home in West Palm Beach. "He was somebody on whom you could learn for support, and it was a wonderful trip that I personally had with two brothers of that quality."
Joseph Mandel's daughter, Penni Weinberg, said, "To me, he was bigger than life, and I will always remember him that way, He never forgot where he came from. He came from Poland when he was 7 with his brother Jack and sister Miriam, very humble beginnings. I took him to Ellis Island and I got him a copy of the manifest and a picture of the boat he came over on. He was crying and he turned to me and said, 'I did OK, didn't I?' And I said, 'Yes you did great.'
Penni's husband, Steve, added, "Joe was a unique person in that he was very smart and had a very tough outer persona. His nickname was Blackheart. But once you got through the veneer, he was really a soft touch. He was very smart, a great salesman, he worked tirelessly and was on the road most of his adult life building the company business, and when the time came to retire and enjoy himself he did it with same vigor and intensity that he did when he worked.
"Their philanthropy is known throughout the world. Though he had a home in Palm Beach, traveled a lot and was a worldly person, his heart was clearly in Cleveland. He had six grandchildren and 12 great-grandchildren, and he cherished his family first and foremost. He was the life of the party, very gregarious and always had something to say. We're going to miss him very much."
Mandel was born in 1913 in Poland and came to Cleveland when he was 7. He was a resident of Palm Beach at the time of his death. He served as chairman of the executive committee of Parkwood LLC, and chairman of the Joseph and Florence Mandel Foundation. He was an avid sculptor, displaying many of his works on his property in Moreland Hills.
In 1940, Mandel co-founded Premier Industrial Corp. with his brothers, Jack and Morton. Premier was listed on the New York Stock Exchange in 1964 and merged with Farnell Electronics, plc, based in the United Kingdom, to form Premier Farnell, plc in 1996.
Mandel was a co-founder of the Jack, Joseph and Morton Mandel Foundation, headquartered in Cleveland. The Mandel Foundation supports leadership education programs in its own institutions and at several universities internationally.
Over the years, many institutions have been founded or named by the brothers.
They include: the Jewish Federation of Cleveland's Jack, Joseph and Morton Mandel Building in Beachwood; the Mandel Jewish Community Center of Cleveland in Beachwood; Jack, Joseph and Morton Mandel School of Applied Social Science at Case Western Reserve University in Cleveland; the Jack, Joseph and Morton Mandel Honors College at Cleveland State University; the Mandel Center of Leadership in the Negev, Israel; the Mandel Institute of Jewish Studies at The Hebrew University in Jerusalem; the Mandel Leadership Institute Israel; the Mandel Center at Brandeis University in Waltham, Mass.; the Mandel Public Library of West Palm Beach; Mandel JCC Palm Beach in Florida; and the Jack, Joseph and Morton Mandel Center for Advanced Holocaust Studies at the U.S. Holocaust Memorial Museum in Washington, D.C.
Stephen H. Hoffman, president of the Jewish Federation of Cleveland, said, "I was deeply saddened at the thought that an era has closed with him. You really can't talk about Joe without talking about his brothers, Jack and Mort. They acted as one great community partnership. They did everything together to benefit both the Jewish community and the Greater Cleveland community, they shared in everything equally and they supported one another in their various interests.
"Joe had great insight into people and he had an artistic side," Hoffman said, "He was a metal sculptor, and one of his statues graces our building, in the rear of the building where the staff comes in every day. It's next to a garden that the three brothers dedicated in memory of their parents, Rose and Simon Mandel. Joe was a very proud Jew, very proud of his daughters and his Jewish grandchildren and great-grandchildren, and he was also a very dedicated lover of Israel.
"I think Joe will be remembered as one of the great American success stories," Hoffman added. "He and his brother Jack were both in Europe and came to America and worked very hard during the Depression as they were coming to maturity. They later brought their brother Mort in and became a huge American success stories and then gave back to the Jewish community and to America as philanthropists. They came from a family with no money and built a very successful business, giving employment to thousands here in Cleveland and then gave back enormous amounts of money for the good of their fellow citizens."
Beachwood Mayor Merle C. Gorden, said, "We lost a great man today, a philanthropist, mentor and friend to not only our city but to all of Northeast Ohio and beyond. Joseph was very generous with his time, his support and kindness for everyone. A true pillar of our community, his effects will be felt for years to come."
West Palm Beach Mayor Jeri Muoio said, "We are saddened to hear of the passing of Joseph Mandel. He and his brothers have made a significant impact on our community. The Mandels are a lovely family who believe passionately in giving back. My condolences to Mr. Mandel's family and all who loved him."
Elliot Cohen, communications director of West Palm Beach, added, "He and his family have really taken this city under their wing. One of their main priorities was education. The whole family is a good example of how you can give back to your community."
Jerry Isaak-Shapiro, head of school at the Joseph and Florence Mandel Jewish Day School in Beachwood, so named since an August gift of just over $17 million from the Joseph and Florence Mandel Family Foundation, said he never got to know Joseph Mandel on a deep personal level, due to his poor health in his final years. However, he heard plenty about one of his school's two namesakes.
"They speak in the most glowing terms about their grandfather, great-grandfather and father," Isaak-Shapiro said of Mandel's family.
More than anything, Isaak-Shapiro became closely acquainted with the family's generosity.
"The entire family really lived the value of tzedakah and giving back to the community," Isaak-Shapiro said.
He said family members told him how happy Joseph Mandel would be if he could see the school in its current state, both because his great-grandchildren currently attend the school and because of how it has impacted the community.
"His family has said that it would have been a supreme joy of his to see the school flourishing," Isaak-Shapiro said.
The school will likely honor Mandel by displaying one of his sculptures - and other commemoration events may be planned as well, he said.
While Mandel JDS may soon have a Joseph Mandel sculpture in front, the Mandel JCC already has one – a sculpture that received significant attention when it was first installed. Hyman recalled plenty of questions about who made it and where it came from, due largely to the eye-catching nature of the artwork.
"We were fortunate that one of those sculptures is right at the main entrance, and it will be a permanent remembrance of his life and his legacy," Hyman said.
Michael Hyman, executive director of the Mandel JCC, said, "He was a dedicated and very generous supporter of our Jewish community and the surrounding community. These are people who have had an extraordinary impact on not just the Mandel JCC but every organization that they have supported."
With the help and "guiding spirit" of the Mandel brothers, the community center received a complete facelift, he said.
"Everything from the front door to the back of the building was completely renovated and became a state of the art facility," Hyman said. "I can remember vividly the groundbreaking for the building and the pride. The look of pride on their faces will be something I always remember."
Mandel was a life trustee of the Jewish Federation of Cleveland.
Michael Siegal, who serves on the executive committee of the board of the Jewish Federations of North America and is a former board chair of the Jewish Federations of North America and former board chair of the Jewish Federation of Cleveland, said, "The Mandel family is an inspiration to all of us in terms of not only business success but also family success. They have shown how brothers can work together and respect each other. Their lives were lives we would all like to emulate.
"Joe was artistic, he was clever, he was fun, he was a renaissance man," said Siegal of Gates Mills. "He was a very good guy, easy to talk to, had a real good personality. He was a wonderful family guy, dedicated to the community and his family, and the Mandels will be recognized as one of the leading families not only in the Jewish community, but the entire Cleveland community."
Albert Ratner, co-chairman emeritus of Forest City Realty Trust, said, "He was a part of a remarkable family and he was a tremendously generous individual. He had numerous friends in the community, people he was very close with, and he was one of three remarkable brothers who are one of the best examples of how a family could work together from beginning to end and respect one another, love one another and just do great things together."
Ronald M. Berkman, president of Cleveland State University,said "We are honored to have a portrait of the Mandel brothers in the college that bears their name.
"Mort has always made gifts that honor his brothers," he added, citing the Jack, Joseph and Morton Mandel Honors College. "The thoughts of the CSU family are with the Mandel family. Their philanthropy has changed the world."
Case Western Reserve University President Barbara R. Snyder, said, "We are saddened to hear of the passing of Joseph Mandel, and feel profound sympathy for his entire family. With his brothers, Jack and Mort, Joseph, transformed exceptional success in business to philanthropic engagement that has touched literally thousands of lives, including many members of the Case Western Reserve community."
Grover "Cleve" Gilmore, dean of the Jack, Joseph and Morton Mandel School of Applied Social Sciences at CWRU, said, "Joe and his brothers, Jack and Mort, have been visionary philanthropic leaders who have been committed to making the world a better place. I will always remember Joe with a broad smile on his face as he listened to our social work students describe the work that they do to better people's lives and build stronger communities. He leaves a rich legacy of people whom he supported who are fulfilling his mission."
Alex Johnson, president of Cuyahoga Community College, which renamed the college's Liberal Arts and Performing Arts building on the Eastern campus in Highland Hills the Jack, Joseph and Morton Mandel Humanities Center in 2015, said, "Mr. Joseph Mandel and his brothers, Jack and Morton, will be linked indelibly to the Cleveland and the world borne from their desire to increase human potential through education and leadership development.
"Tri-C's Mandel Humanities Center, endowed by the Mandel Foundation, is an example of this commitment and is symbolic of the humility and kindness the brothers displayed and inherited from their parents, Simon and Rose.
Brandeis interim President Lisa M. Lynch said, "It is impossible to fully measure the enormous impact that Joseph Mandel and the Mandel family have had on Brandeis. Since making their first gift in 1953, they have been loyal friends. Their support is historic in scope and will benefit Brandeis students and faculty for generations to come."
Sara J. Bloomfield, director of the U.S. Holocaust Memorial Museum and a former Shaker Heights resident, said, "Joseph Mandel was a great leader in business, community and philanthropy. He leaves an exceptional legacy that has shaped the U.S. Holocaust Memorial Museum as well as other institutions and will impact countless lives for generations to come."
Mandel is survived by his daughters, Michele (Larry) Beyer and Penni (Stephen) Weinberg; grandchildren, Rob (Loren) Beyer, Anthony (Vanessa) Beyer, Timothy Beyer, Pamela (Craig) Kahn, Jennifer (Grant) Dinner, and Stephanie (Jared) Miller; great-grandchildren, Bliss, Belle, Alexander, Nikolaus, Caroline, Eleanor, Campbell, Katie, Emily, Benjamin, Nathan and Jay. Mandel was preceded in death by his wife of 62 years, Florence.
A memorial service will be held at 12:30 p.m. March 25 at Anshe Chesed Fairmount Temple, 23737 Fairmount Blvd., Beachwood.
Rabbi Robert Nosanchuk of Fairmount Temple said, "Joseph and Florence Mandel have had an extraordinary impact on our synagogue community. The Mandel, Beyer and Weinberg families have been visionary supporters of our mission – especially impacting our educational programs, family learning and worship.
"I am personally indebted to Joe Mandel for his example to so many in our temple of generosity and kindness. Each time I enter into our Joseph and Florence Mandel Sanctuary, particularly on Yom Kippur when I enter the service in a procession of Torahs, including one carried by his daughter, Penni Weinberg and granddaughter, Stephanie Miller, I feel we are living up to the Mandel family's hope of an enduring commitment to Torah and tradition.
His memory will be a blessing to our people."
Staff Reporters Jonah L. Rosenblum, Ed Wittenberg and Carlo Wolff and Digital Content Producer Noelle Bye contributed to this story.
List of Mandel named buildings
Cleveland
Jack, Joseph and Morton Mandel Community Studies Center - Case Western Reserve University
Jack, Joseph and Morton Mandel Building – Jewish Federation of Cleveland
Mandel Community Building – Cleveland United Way
Mandel Jewish Community Center
Mandel School of Applied Social Sciences – Case Western Reserve University
Cuyahoga Community College – Jack, Joseph and Morton Mandel Humanities Center
Joseph and Florence Mandel Jewish Day School
North America
Brandeis University – Jack, Joseph and Morton Mandel Center for the Humanities
Mandel Public Library of West Palm Beach
Mandel Jewish Community Center – Palm Beach
U. S. Holocaust Memorial Museum – Jack, Joseph and Morton Mandel Center for Advanced Holocaust Studies
Israel
Jack, Joseph and Morton Mandel School for Advanced Studies in the Humanities – The Hebrew University
Jack, Joseph and Morton Mandel Children's Museum of Beer Sheva, Israel - Lunada
---
Related Items