05/18/2018
Judi Kovach to Receive Prestigious Irene Zehman Award
Co-Founder and Chair of the Cleveland Kids' Book Bank Recognized for "Highest Ideals and Practices of Volunteer Service"
The Jewish Federation of Cleveland announced that Judi Kovach, Co-Founder and Chair of the Cleveland Kids' Book Bank, is the 2018 recipient of the Irene Zehman Award. Each year, the organization recognizes an unsung Jewish woman or group of women who demonstrate the highest ideals and practices of volunteer service on behalf of the Jewish and/or general community. The Shaker Heights resident will be honored at the Federation's Women's Philanthropy Spring Luncheon on May 30 at 11:30 am at Landerhaven (6111 Landerhaven Drive, Mayfield Heights).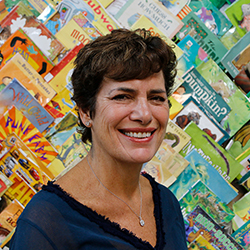 "For more than 20 years, Judi has made life better for countless community members through her work and volunteering efforts," said Danielle Wild, Federation's Women's Philanthropy Chair. "Under her leadership, the Cleveland Kids' Book Bank has distributed more than one million children's books to those in need in less than two years. We are proud to recognize Judi for her vision and selfless drive to make a meaningful difference in our community."
The Irene Zehman Volunteer Award was established in 1980 by Roslyn Z. Wolf and Judith Z. Sherman, both of blessed memory, in honor of their mother, Irene Zehman, who devoted much of her life to giving back to the community through volunteering. Recent recipients of this award include Gayle Horwitz, an active volunteer with US Together, Mary Ellen Saltzman (z"l), founder of Treasures Gift Shop at the Mandel JCC, and Ellen Neye, Margo Roth, and Marcia Schumann, stalwart volunteers at The Gathering Place Warehouse.
"Reading has always been a passion of mine, but I never realized how much books open your eyes to the world and to other people," Judi said. "Being able to meld my passion for books with my passion for the Jewish value of tikkun olam has been the most incredible adventure. I share this award with all the wonderful volunteers who have helped out at the Book Bank and helped make our dream a reality."
In addition to the presentation of the Irene Zehman Award, the Women's Philanthropy Spring Luncheon will feature Carin Rockind, a leading happiness expert, media personality, and the creator of PurposeGirl – a movement to empower purpose-driven living for girls and women – who will speak on how to think with an open, growth mindset and use life's challenges as fuel for greatness. Luncheon attendees will have the opportunity to support the Cleveland Kids' Book Bank by donating new and gently used children's books. The luncheon is an annual event for Federation Women's Philanthropy that attracts hundreds diverse women.
For more information or to register for the Women's Philanthropy Spring Luncheon, please visit www.jewishcleveland.org or contact Lisa Hacker at 216-593-2792 or lhacker@jcfcleve.org.