02/18/2021
Justin Kadis Receives the Yanowitz Award for Outstanding Young Community Leadership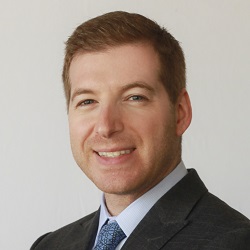 Justin Kadis has been awarded the 2020 Bennett and Donna Yanowitz Leadership Award by the Jewish Federation of Cleveland. The award recognizes and honors an outstanding young individual who has demonstrated commitment, involvement, and leadership within Cleveland's Jewish community. He received the award at the Federation's virtual Board of Trustees meeting on February 16.
"Thank you to the Yanowitz family for this very meaningful honor," Kadis said. "The Jewish Federation of Cleveland has been part of my life for as long as I can remember, and my volunteer work gives me a sense of duty and purpose that I hope to pass onto my children one day like my parents have passed onto me. I value the mentorship, friendship, and growth that I've gained working alongside so many exceptional people."
Kadis, 37, has taken an active role in serving the local and global Jewish community in a variety of capacities. In 2014, he was named the Roslyn Z. Wolf-JDC International Fellow and spent 18 months volunteering at the Jewish Community Center (JCC) of Krakow, Poland. Six years since his fellowship, Kadis' work with the organization continues as co-founder and current board member of Friends of JCC Krakow. He returns to Krakow each year for Ride For The Living, a fundraiser that he co-founded, in which hundreds of individuals bicycle from Auschwitz to JCC Krakow in honor of the victims of the Holocaust and celebration of Jewish renewal in Poland.
Kadis is also involved in the national Jewish community as a member of National Young Leadership Cabinet, the Jewish Federations of North America's elite leadership training program for young adults. Locally, he serves on the boards of the Jewish Federation of Cleveland and Cleveland Hillel Foundation.
"Justin is quite accomplished, and he epitomizes the person my parents had in mind when they established this award 25 years ago," said Alan Yanowitz at the February 16 Board of Trustees meeting. "Justin has distinguished himself through his participation and leadership in the Cleveland community, nationally, and internationally."
Kadis works for Federal Equipment Company in business development. He is an alumnus of Boston University and Hawken School. The Yanowitz Award has been given annually since the early 1960s. As recipient of the award, Kadis is invited to join the Cleveland delegation to a General Assembly of the Jewish Federations of North America.