11/23/2022
Keeping Cleveland Stronger Than Hate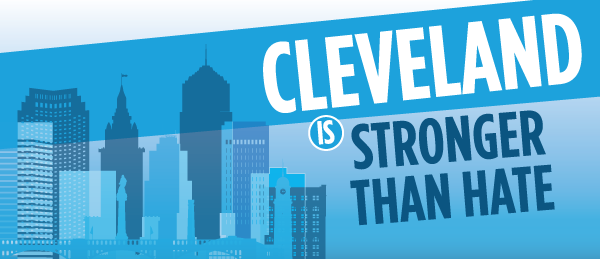 Normally at this time of year, a message to the community would be focused on expressing our deepest gratitude to our community members for making Jewish Cleveland such a warm and special community.
We'd use Thanksgiving to give thanks to our beneficiary agency leadership and their staff, our dedicated community leaders and volunteers, our loyal and generous donors, and so many others.
And while those things all remain true this year, we also must recognize that things are now quite different in America for Jews:
Countless celebrities and politicians are espousing age-old antisemitic conspiracy theories as facts.
Technology and social media are enabling antisemites and anti-Israel activists to garner support, advance their causes, and justify Jew hatred.
Our college students are increasingly afraid to share their Jewish identities on campus for fear of harassment (or worse). Just recently a clearly antisemitic resolution was passed by the student government at Case Western Reserve University. We thank President Kaler and all those on campus who have stood up to this hate.
Jews today face constant gaslighting when we try to explain how these dangerous tropes cause real – and potentially deadly – threats to the Jewish and broader community.
For these and many other reasons, we are compelled to do even more now to combat the deadly virus of hate. There is never a justification for Jew hatred.
For example, last month we launched an innovative new program designed to expand and enhance the work local Hillels do to build strong relationships on campus with non-Jewish partners to fight antisemitism. Known as the "Campus Partner Fellows" program, this initiative will enable Jewish students to utilize proven community relations strategies to root out the underlying factors that are feeding this renewed hatred towards Jews.
While we have long-standing relationships with civic, faith, and business leaders throughout Greater Cleveland who stand with us, we need more help from them – and we need more of them. We are convening different groups from across Northeast Ohio in order to learn from one another and strategize more ways we can demonstrate a deepened commitment to fight hate together.
Through our security provider – JFC Security, LLC – we now provide 48 highly trained officers to help local law enforcement keep Jewish Cleveland open and welcoming to all. In order to maintain our state-of-the-art offering, we are continuously improving our protocols and practices, as well as investing in enhancements such as the emergency communications center we launched earlier this year.
There is much more we are doing and in the works that you'll be hearing about soon – including a major, interfaith initiative next month as part of our efforts to shine a light on antisemitism. This is not the first Thanksgiving Jews have found themselves the target of hate. We have been here before – and we are still here now. Hate can never keep us from caring for each other, being an active Jewish community, and participating in all aspects of Jewish life. Nor can it keep us from participating fully in the Greater Cleveland community and strengthening our broader world.
Wishing you and your families a safe and healthy Thanksgiving.

Daniel N. Zelman
Board Chair

Erika B. Rudin-Luria
President
To learn more about how you can get actively involved in this fight against antisemitism, please contact us at info@jewishcleveland.org.
---
This year's annual Campaign for Jewish Needs closes on December 7. To make a pledge, click here.