10/03/2022
Keeping Our Jewish Community Strong: Endow Your Annual Gifts
Article reprinted with permission from Cleveland Jewish News
Jeremy Pappas | SPECIAL TO THE CJN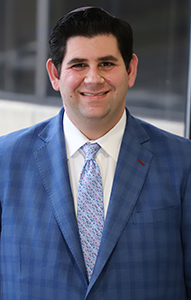 I asked my wife, Abbie, an estate planning attorney, if she considered her job to be a bit morbid. "Is it weird talking to people about what happens when they die?" She explained that the majority of her clients are excited to have these conversations because they care about their legacy. It is more about living than dying. A person's estate plan is an opportunity for them to continue making a difference for the community they supported during their lives. Our Jewish community's LIFE & LEGACY endowment development initiative is ensuring the future of Jewish Cleveland one legacy gift at a time.
What we do today and how we prepare for tomorrow are equally important. The Jewish Federation of Cleveland and its beneficiary agencies count on annual gifts to support the current needs of our community. This is incredibly important and provides the necessary funds to keep our community vibrant, safe and thriving currently. The vibrancy of our schools, the care we provide for the vulnerable and elderly, and the investment in community security are just a few examples of the impact of annual giving.
Each year the pressure is on! The needs increase and we must reach out to ask our community to be even more generous. It is not surprising that our thriving, diverse Jewish community is a result of the fact that we are one of the most generous Jewish communities in the country per capita.
We are well aware, however, that annual giving will never support every need in our community, nor can we predict the future. We do know that crises occur and will continue to occur. This is why endowment funds are essential. There is no better example than the COVID-19 crisis. With a strong community endowment, we were able to immediately provide for immediate and new long-term needs of school children and elderly in nursing homes and at home. You can be part of making our community stronger and guarantee that it will continue to thrive by creating your own endowment fund at the Federation or any beneficiary agency.
When you create an annual campaign endowment fund (at the Federation we call them FOREVER Funds), the principle is invested, and a percentage is distributed to the organization each year to support the agency's annual fund. Ideally, the distributed amount is less than the income earned, so that the fund continues to grow. This ensures that a gift is made in your name every year to the organizations you care for most.
During an annual campaign, every gift matters regardless of the amount. The same is true with creating an endowment. One's wealth is not an indicator of their ability to leave gifts to causes and organizations that are important to them and perpetuate their values. For example, retirement accounts, life insurance policies or other assets can be used to create an endowment. The Federation's gift planning professionals and development professionals at our agencies and schools are here to discuss ways to ensure that you create the legacy that supports your values. A gift to any Jewish organization is a gift to Jewish Cleveland and supports our entire community.
As Abbie said, estate planning is not about dying, it is about living forever by creating a lasting legacy.