06/28/2018
Kickin' It, Israeli Style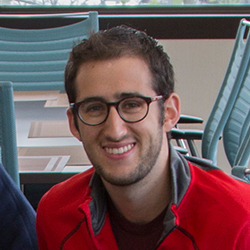 The 2018 FIFA World Cup took the soccer world by storm this summer. Itamar Nurko of Beachwood used his love of soccer in a very special way in Israel through the Jewish Federation of Cleveland's Onward Israel internship program. Onward is a two-month summer internship, which allows college students and recent college grads to immerse themselves in Israeli culture – living and working in Tel Aviv, Israel.
Onward offers a vast amount of opportunities available – from teaching, technology, social work, and sports. As a current senior at The Ohio State University majoring in Sports Industry, Itamar interned at the Ramat Gan Olim Department, developing sports activities for children. "Soccer has always played a major part in my life and it's so incredible that Onward had this internship option," Itamar said. "My time there helped them not only with their everyday overflow of tasks that needed to get done, but gave them more of a millennial perspective on ways to market themselves and create events for younger Olim."
But as much as Itamar helped the staff and Olim at his internship, he also got so much in return. "Working with Elisheva Ackerson and the entire Ramat Gan Olim staff was indescribable. They taught me about being organized and innovative, as well as, how to improve my own personal skills."
Itamar has had a deep connection to Judaism, Jewish Cleveland, and Israel since he was a kid. "I graduated from Mandel JDS, a Federation beneficiary agency, and went to Israel with them," said Itamar. "It was that trip when I first fell in love with the country. Israel is very special to me, and having this opportunity to travel there with my peers was incredible. After high school, I took a Gap Year in Israel. That just fueled my passion for Israel even more; as soon as I got back home to Cleveland, I had the desire to go back."
Masa Israel Journey, an organization supported by Federation, offers college-bound high school graduates the opportunity to acquire a global perspective and to gain a taste of independent living all while having an incredible Israel experience. "When I went on my Gap Year, I was 18 and went there to travel and experience Israel," Itamar said. "I learned so much about the country as I traveled from the north to the south."
Along with Itamar, more than 50 other young Jewish Clevelanders participated in Onward Israel last summer. "We brought a little bit of Cleveland with us," Itamar joked. "A lot of us grew up together, and Onward brought us even closer. You can intern in other countries, but with Onward, you already have a connection to the culture and the country where you are. Federation and the people of this community – they've been there for me and thousands of other people here in Cleveland offering programs like Birthright, Gap Year, Onward, and so many others. We all have a passion for Israel. We've been brought up learning about it."
I-Connect, an initiative of Federation, provides young adults in Cleveland with opportunities to experience Israel in whatever way they choose – programs that last 10 days, two months, or one year. These experiences deepen your connection to Israeli life and culture and change your life forever – for the better.
To learn more about Onward Israel and apply or other I-Connect programs, contact Rivki Ebner at rebner@jcfcleve.org or 216-593-2921.
---
Related Items