04/18/2018
Kohrman to Receive Eisenman Award, Dayan to Speak at Federation Annual Meeting
Article reprinted with permission from Cleveland Jewish News.
By Amanda Koehn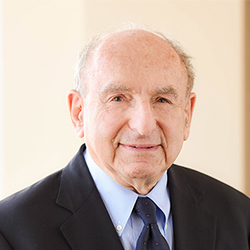 S. Lee Kohrman, a longtime Jewish community volunteer, leader and lawyer, will receive the Jewish Federation of Cleveland's highest annual honor at the group's 114th annual meeting April 26 at Fuchs Mizrachi School in Beachwood.
Amb. Dani Dayan, Consul General of Israel in New York, is the event's keynote speaker. His talk's theme is "Israel at 70," and the meeting is part of the Federation's series of events celebrating Israel's 70th anniversary.
The Charles Eisenman Award is presented annually to a person or nonprofit who has demonstrated outstanding contributions to the community. Kohrman has served as president of the David and Inez Myers Foundation, a Northeast Ohio philanthropic foundation, since 1996. The foundation has expanded its reach to hundreds of organizations with grants totaling more than $120 million during Kohrman's tenure, according to a Federation news release.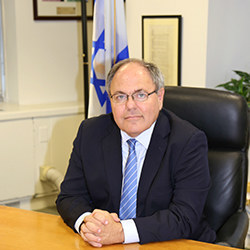 "Wherever Lee has served, he has brought great intellect, tremendous tenacity and a commitment to do the right thing," said Federation President Stephen H. Hoffman. "From enhancing BBYO to Jewish overnight camping, Lee has dreamed it up, put it on his shoulders, and here it is happening. It's an amazing series of accomplishments."
Notable among his accomplishments and leadership positions, Kohrman, the Myers Foundation and Jewish Family Service Association established the Myers Campership Program in 2012, which provides Jewish camp funding for families who can't afford it. Hundreds of children have attended Jewish camp as a result of the program, according to the release.
Kohrman said his incentive for starting the program was helping children who otherwise weren't connected to Jewish life have a such an experience.
"The overarching interest is the continuity of Jewish life in America, and it's been proven by demographers that spending a few weeks at a Jewish camp for a few years has a tremendous impact on young people and is likely to produce kids who will carry a Jewish commitment on into their adult life," said Kohrman, a Beachwood resident.
Kohrman, who is partner emeritus at Kohrman, Jackson and Krantz law firm, also worked to develop a nationwide effort in Israel to help Ethiopian-Israeli families and children close the developmental and performance gap compared to non-immigrant Israelis. He said he became interested in assisting that community after his late wife, Margery, made him aware of the challenges Ethiopian Jews face integrating into Israeli society.
Despite his successes, Kohrman said persistent challenges he "looks at all the time" include improving access to affordable housing in Israel, maintaining Jewish continuity in the United States, and reducing childhood poverty.
"When it comes down to it, Jewish challenges in the United States are pretty much a subset of the greater community," said Kohrman, who has also served in the U.S. Army and is a graduate of Harvard College and Harvard Law School in Cambridge, Mass. "So if the greater community fails in that respect, it's going to impact sooner or later on Jews."
Also at the meeting, Federation board chair Gary L. Gross will give an update on the Federation's strategic plan.
"They've been working through this process for well over a year of really looking hard at the issues facing the Jewish community, whether social services, education or security, and really looking at how to prioritize the issues and stay ahead of the issues that face the community in order to do the most they can with limited dollars," said Alan Yanowitz, a co-chair of the annual meeting with his wife, Dara.
Moreover, Yanowitz, of Beachwood, said new board members will be elected and Dayan will provide a high-level perspective on the happenings in U.S.-Israel relations.
"He's sort of a commentator on what's going on, and what's going on is such a moving target these days," Yanowitz said. "He's a well-known lecturer and a pretty regular commentator in the international press."
---
Jewish Federation of Cleveland's 114th Annual Meeting
WHO: Amb. Dani Dayan, Consul General of Israel in New York, will discuss Israel at 70, and S. Lee Kohrman will receive the Charles Eisenman Award for exceptional community service.
WHEN: 7:30 p.m., April 26
WHERE: Fuchs Mizrachi School, 26600 Shaker Blvd., Beachwood
INFO: Free and open to the public. Space is limited and registration is encouraged to bit.ly/2qCQjL7.
---
Related Items