10/04/2022
Kol Israel Foundation Holds 61st Memorial Commemoration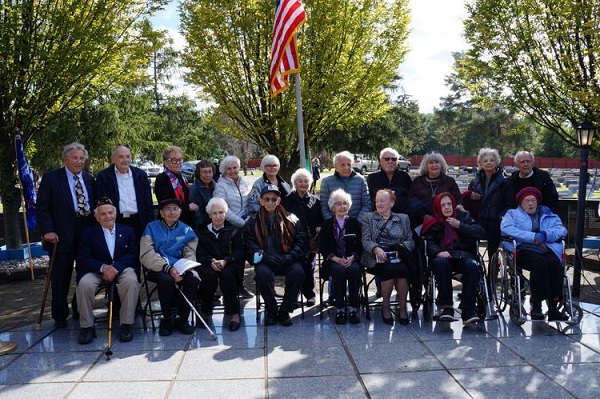 BECKY RASPE | STAFF REPORTER
Article reprinted with permission from Cleveland Jewish News
Under sunny skies and cool temperatures, the Cleveland Jewish community remembered Holocaust victims and honored survivors at the annual Kol Israel Foundation Fall Memorial event on Oct. 2 at Zion Memorial Park in Bedford Heights.
The event, hosted by Kol Israel Foundation and the Jewish Federation of Cleveland, was the 61st anniversary of the memorial's dedication in 1961 by the foundation's founders, a group of local survivors.
Mark Frank, past president of Kol Israel Foundation and memorial co-chair, guided the candle lighting ceremony, sharing it is to commemorate the 6 million Jews that died during the Holocaust and to honor those who lived through it. At this year's event, all six candles were lit by survivors and their families.
"We lament the fact their numbers are dwindling due to the passage of time," said Frank, who is the son of Kol Israel founders. "That is why it is so important for all of you here, your families and the community to carry on the legacy of telling their stories, remembering their heroism, perseverance and resilience.
As each survivor and their families lit one of six electric lamps, Frank read out short biographies of each featured survivor, Al Hersh; siblings Harry Greenwald and Louise Gips; sisters Miriam Steinfeld and Tova Baron; John Newburger; and Roni Berenson. Nina Frankel, who was scheduled to light the fourth candle, could not attend the event, so her children did it in her honor.
The seventh candle, which is in memory of the children who lost their lives during the Holocaust, was lit by members of the Shul Boys motorcycle club.
Robert Zelwin, president of Kol Israel Foundation, spoke about the creation of Kol Israel and the significance of the organization in the lives of survivors and their descendants. Zelwin is also a second-generation survivor.
"As the second generation of survivors grows older, it is important that we preserve the history," Zelwin said. "We as the second-, third- and even fourth-generation survivors must tell the stories of our parents to our children, grandchildren and friends. ... We need to be educators."
Erica Starrfield, vice chair of the Jewish Federation of Cleveland's board of trustees, also addressed the crowd. She is a third-generation survivor.
"This monument is one-of-a-kind," she said. "It is a sacred monument, thoughtfully created by Kol Israel's founders. It is a true testament to the strength of the survivor community in Cleveland. ... I am proud to be here on the 61st commemoration of the dedication of this monument. At a time where antisemitism is on the rise and we face global threats of all kinds, it is even more important for us to gather together and remember our past."
Michael Caputo, son of the late Charles Caputo, also spoke at the event. Charles Caputo, who died March 27, 2021, was a teacher at Berkshire High School in Burton for 30 years and was one of the first educators in the state that put together Holocaust education programming, which was housed at Sinai Synagogue in Cleveland Heights through a partnership with Rabbi Isadore Pickholtz. That program facilitated a yearly seminar, starting in 1970. At those seminars, high school upperclassmen would learn firsthand accounts from survivors. It went on for 25 years, with thousands of students attending.
In his memory, Kol Israel added his name to the monument with other Holocaust educators, Leatrice Rabinsky and Bea Stadtler.
"He was tormented by one question – how could otherwise normal, educated, apparently good people resort to some kind of barbarism like that happened," Michael Caputo said. "I am not sure if he ever came up with an answer. But, that was one of his life's main missions – to learn and spread that to try and prevent that in the future."
Rabbi Matt Eisenberg of Temple Israel Ner Tamid in Mayfield Heights delivered remarks.
"We live not only for those who come after us in the future, but we live for those who came before us," he said. "We must uphold our past. We are surrounded by those who are not present today. Some of us hear their voices within us and remember the days when we lived in their company. Their names are constantly with us. We have a responsibility to hold onto their memories and to keep alive the things they believed in."
The ceremony closed with Tehillim and Kol Mole Rachamim led by Charles Grunspan. Eisenberg also delivered the Mourner's Kaddish.
Kol Israel's pursuit of National Memorial status by an act of U.S. Congress for its Holocaust memorial gained momentum Sept. 19, when it easily passed the U.S. House. The bill advances to the U.S. Senate and if passed, President Joe Biden would have to sign it.