02/24/2015
Kosher Nutritious: Purim Cookies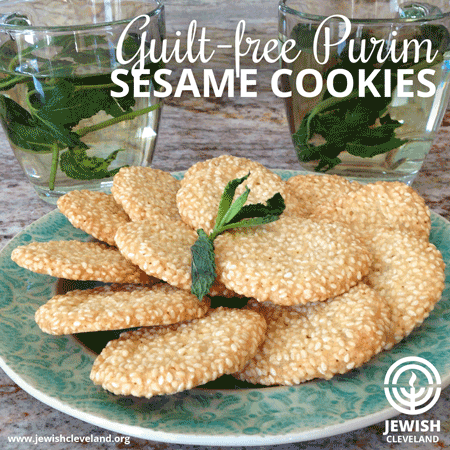 By Caroline Sharvit
Most, if not all, Jewish holidays have their own traditional (typically calorically dense, nutritionally bereft) foods associated with them. Purim is no exception. We celebrate God's hidden hand preventing Haman from annihilating the Jewish people by hearing the Purim Megilla (story of Purim) and giving Mishloach Manot (small food packages). Oftentimes during Purim, we gift not-so-nutritious traditional treats, like margarine-heavy hamentashen and sugar-laden candies and pastries.
Originally, this custom of exchanging food packages between friends and neighbors was established as a way of emphasizing Jewish harmony and camaraderie. The only requirement for the packages is that two foods be included. Just two? That's a hint toward moderation this holiday. Knowing what we know about nutrition's impact on our health, it motivates us to practice moderation in our food consumption.
In the spirit of moderation, I picked a sesame based recipe for a healthy Mishloach Manot, because just as the Jewish people are small in number but have made a tremendous impact on Western civilization, so too, the sesame seed is tiny but nutritionally very robust. A few of sesame's many nutritional attributes include a high protein content, fiber, magnesium, calcium and vitamin B1. Sesame also contains an antioxidant and anti-inflammatory compound in the form of sesamol, which may improve cardiovascular health by preventing atherosclerotic plaque formation.
On a practical note, as a busy mom and a fan of recipes that don't involve much more than mixing a few ingredients together in a bowl, I find these cookies much easier and quicker to prepare than traditional hamantaschen. Furthermore, the low sugar content of these light and crispy cookies, in addition to the fact that they contain no margarine, makes them a guilt free indulgence.
Sesame Cookies
1 batch yields about 3 dozen cookies
Ingredients:
1 c. Hulled sesame seeds
4 tbsp. sugar
3 tbsp. all purpose flour
3 tbsp canola oil
1/2 tbsp. baking powder
1 egg
Directions:
Preheat oven to 350.
Line a cookie sheet with parchment paper.
Mix all ingredients in a bowl.
Place cookie mixture by the teaspoon on the parchment paper, leaving 2 inches between each cookie.
Bake for 9-12 minutes, or until golden brown.
Let cool for 1 minute on cookie sheet and then remove to wire rack to cool completely.
These cookies are delicious served with fresh mint tea, or on their own. To make mint tea, steep 4 sprigs of fresh mint in hot water for 5 minutes. (A French press works best.) Add sugar to taste. Alternatively, you can add mint tea bags to complete your mishloach manot package.
A happy Purim, to all!
---
Whether the motivation is weight management, athletic performance or disease management, clinical nutritionist Caroline Sharvit helps clients incorporate their food preferences within the framework of a healthy food plan and promotes long term strategies aimed at achieving weight and wellness goals.
Caroline holds a Master's Degree in Clinical Nutrition from New York University, and is a Registered Dietitian Nutritionist and a member of the Academy of Nutrition and Dietetics.
She provides nutrition counseling for children and adults through Tree of Knowledge, an educational services provider in Cleveland, Ohio.
---
Related Articles:
Kosher Nutritious: Tu B'Shevat