02/04/2015
Kosher Nutritious: Tu B'Shevat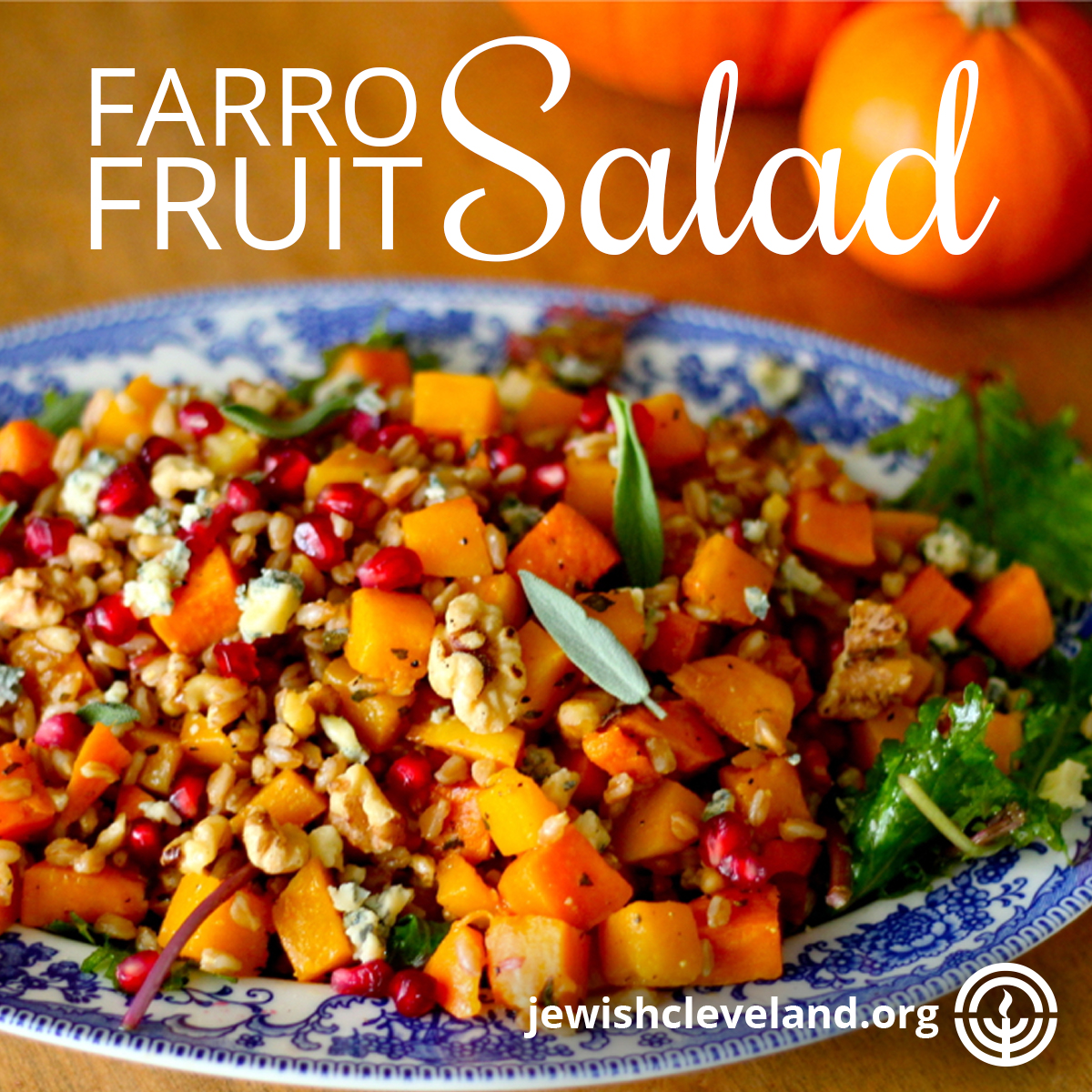 By Caroline Sharvit
Looking out the window at the tundra-like conditions outside, it's hard to believe that halfway around the world, in Israel, signs of imminent spring are evident, most notably, with the blossoming of the almond tree.
On the evening of February 3 and February 4, we celebrate Tu B'Shevat, (which means the 15th day of the month of Shevat on the Jewish Calendar). From ancient times until today, Tu B'Shevat has been observed as the New Year of the Trees. According to Jewish law, the "new year" for trees relates to the various tithes that are separated from produce grown in Israel. These tithes differ from year to year, and the point at which a budding fruit is considered to belong to the next year of the cycle is the 15th of Shevat.
For those of us not farming in Israel, however, Tu B'Shevat still retains practical and spiritual relevance.
In addition to taking an agricultural accounting of sorts, Tu B'Shevat is a "green" holiday in that it provides us with an opportunity to acknowledge and celebrate all of the bounty with which the earth provides and sustains us. It is common practice in Israel to celebrate Tu B'Shevat by hiking and planting trees which enables us to appreciate the earth's beauty and give back to the planet at least a little of what it gives to us. Of course, as with all Jewish holidays, the New Year of the Trees is also celebrated with symbolic foods and blessings. Like the Passover seder, but with about 2% of the work, the Tu B'Shevat seder is a delicious and meaningful way to celebrate the abundant variety of plant foods that grow in Israel, including but not limited to the Seven Species native to Israel mentioned in the Bible: Wheat, barley, grapes or wine, figs, pomegranates, olives, and dates. Visit PJ Library's website for ideas on how to incorporate a seder into your Tu B'Shevat celebration.
Not to be pessimistic, but statistically speaking, those resolutions we made at the beginning of January or on Rosh HaShanah to eat healthy and take better care of ourselves are likely long gone, or on their way to fizzling out. According to a research study out of the University of Scranton, nearly 50% of those who have made New Year's resolutions have dropped them within a month of committing to them. Because celebrating Tu B'shevat includes sampling whole grains, fruits and nuts, Tu B'Shevat is an excellent time to reaffirm our commitment to incorporating healthy foods into our diet, and thus, replacing nutritionally empty processed foods with nutritionally dense plant based foods.
The following recipe incorporates several of the Tu B'Shevat foods listed above, but is great to serve year round.
Farro and Fruit Salad
Ingredients:
1 c. farro, rinsed
2.5 c. water
2 leeks, washed well and sliced
1 medium sweet potato, peeled, cut into small chunks
1 tbsp. olive oil
salt and pepper, to taste
¼ c. pomegranate seeds
¼ c. grapes quartered
8 walnut halves, broken into pieces, and lightly toasted
For the dressing:
1 small/medium clove garlic
1 scallion, light and green part only cut into pieces
2 tbsp. red wine vinegar
1 tsp. Dijon mustard
1 tsp. honey
3 tbsp. olive oil
salt and pepper to taste
Directions:
Preheat oven to 400.
Place sliced leeks and sweet potato chunks on a foil lined cookie sheet. Drizzle with 1 tbsp. olive oil and sprinkle with salt and pepper.
Roast in oven until soft for about 20-25 minutes, mixing every 5 minutes.
When done, remove from oven and place on countertop to cool.
In the meantime, place rinsed farro in a pot and add the water. Bring to a rolling boil, uncovered.
Once the water is boiling, lower the heat and cover the pot. Cook on low for 30-40 minutes. (30 minutes will yield a chewier farro, 40 minutes will yield a softer grain.) If not all of the water is absorbed during cooking, drain the farro in a colander.
While the vegetables are roasting and the farro is cooking, chop the grapes and place in a bowl with the pomegranate seeds.
While the vegetables are roasting and the farro is cooking, chop the grapes and place in a bowl with the pomegranate seeds.
Blend dressing ingredients together until smooth.
Place roasted vegetables and farro in the bowl with the fruit and toss with the dressing.
Sprinkle walnut pieces on top before serving.
You can serve this dish cold or at room temperature, over greens, if desired.
This beautiful salad not only looks terrific on the table with its vibrant jewel colors, it tastes great, and it's good for you, too! Whole grains, like farro, which is a type of wheat native to the fertile-crescent, is rich in B vitamins and magnesium, as well as fiber. It also contains a higher protein content than traditional winter wheat. For those who have Celiac Disease or gluten sensitivity, short grain brown rice or teff can be substituted for the farro.
The fruits in this salad offer their own health benefits, as well. In addition to being high in fiber and low in calories, pomegranates and grapes are good sources of vitamins C and K. Vitamin C is essential for collagen formation and wound healing and aids in iron absorption, while Vitamin K is necessary for blood clotting and bone maintenance. Furthermore, both fruits contain polyphenols – powerful antioxidants that may positively impact cardiovascular health and have cancer fighting properties.
Rich in heart healthy omega-3 fatty acids and powerful antioxidants that also contribute to cardiovascular health, the walnut is a healthy addition to nearly any diet. On a macro level, regular consumption of walnuts and other nuts has been associated with achieving and maintaining ideal weight over time, as well as with promoting increased feelings of satiety, which contributes to less overall consumption.
In addition to providing us with an opportunity to connect with nature, Tu B'Shevat serves as a mindful seasonal alert to get us back on track and consistently make good dietary choices that will positively impact our health and physical appearance.
So no, we certainly cannot go outside today and plant a tree, but what's to stop us from planting good habits that will blossom with practice and care? Let the Jewish calendar inspire us to adopt good habits.
Happy Tu B'Shevat!
---
Whether the motivation is weight management, athletic performance or disease management, clinical nutritionist Caroline Sharvit helps clients incorporate their food preferences within the framework of a healthy food plan and promotes long term strategies aimed at achieving weight and wellness goals.
Caroline holds a Master's Degree in Clinical Nutrition from New York University, and is a Registered Dietitian Nutritionist and a member of the Academy of Nutrition and Dietetics.
She provides nutrition counseling for children and adults through Tree of Knowledge, an educational services provider in Cleveland, Ohio.