12/19/2017
Kraus Named 2017-18 Roslyn Z. Wolf-JDC International Fellow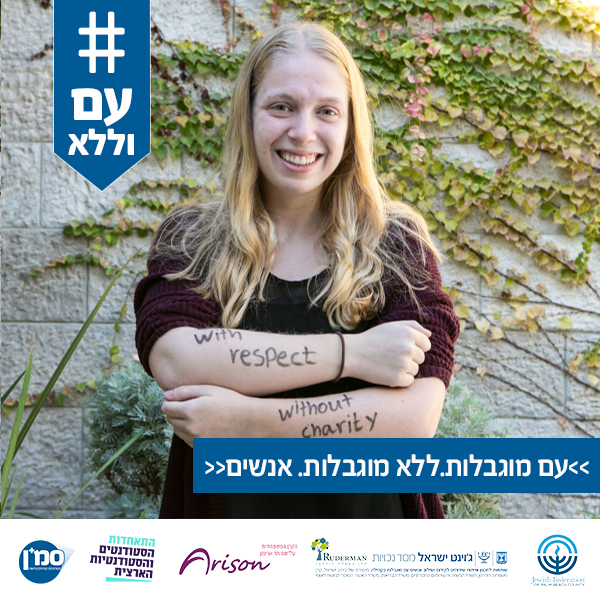 Rachel Kraus of Solon has been named the 2017-2018 Roslyn Z. Wolf Cleveland-JDC International Fellow. Established in 2003 by the Jewish Federation of Cleveland, the American Jewish Joint Distribution Committee (JDC) and the JDC Entwine Global Jewish Service Corps, the Roslyn Z. Wolf Cleveland-JDC International Fellowship is part of a cohort of 23 young JDC Entwine Global Jewish Service Corps Fellows deployed around the world.
In this capacity, Rachel is spending a year in Israel volunteering with Israel-Unlimited, JDC's program partnership with the Ruderman Family Foundation and the Israeli government, developing programs to meet the needs of Israel's disabled and to advance independent living and integration of people with disabilities into Israeli society.
A passion for traveling the world, Rachel spent a gap year between high school and college in Israel and also studied abroad in Copenhagen, Denmark during her junior year of college. Rachel graduated from Brandeis University where she majored in Psychology and International & Global Studies, with a minor in Anthropology. While at Brandeis, Rachel held many leadership positions in her sorority, Delta Phi Epsilon, worked as a Teacher's Assistant at a daycare, and as a Kindergarten Hebrew/Judaic Teacher at a local synagogue. She also spent time participating in the university's dance clubs and local volunteering options.
"I am honored and humbled by this recognition. I cannot thank the Wolf family enough for this once-in-a-lifetime opportunity to engage in such meaningful work in service of the global Jewish community," Rachel said.
The Wolf Fellowship was created in memory of Roslyn Z. Wolf, a Trustee for Life of the Jewish Federation of Cleveland, whose many years of dedicated community service has improved the lives of thousands of Jews around the globe and continues to inspire young volunteers. The Fellowship is made possible through the generosity of her late husband Ambassador Milton A. Wolf, a former JDC President, and his children in honor of their late wife and mother.
"The best part about the fellowship has been the opportunity to explore and better understand Israel's most vulnerable populations through JDC's work throughout the country," Rachel said. "It has been a privilege working with them thus far, and it makes me realize how much more work we still have to do."
If you know a Jewish Cleveland young adult who wants to travel the world, applications are now open to the 2018-2019 Roslyn Z. Wolf Cleveland-JDC International Fellowship. Applications are due December 31, 2017. Qualified applicants must have a college degree or equivalent and proven academic achievement, strong leadership and communication skills, and capacity for independent work. Knowledge of other languages is valuable in many placements.
For more information or to apply, please visit www.jdcentwine.org/jsc.
---
Related Items