10/03/2022
Lapid Meeting 'Not Something We Take For Granted'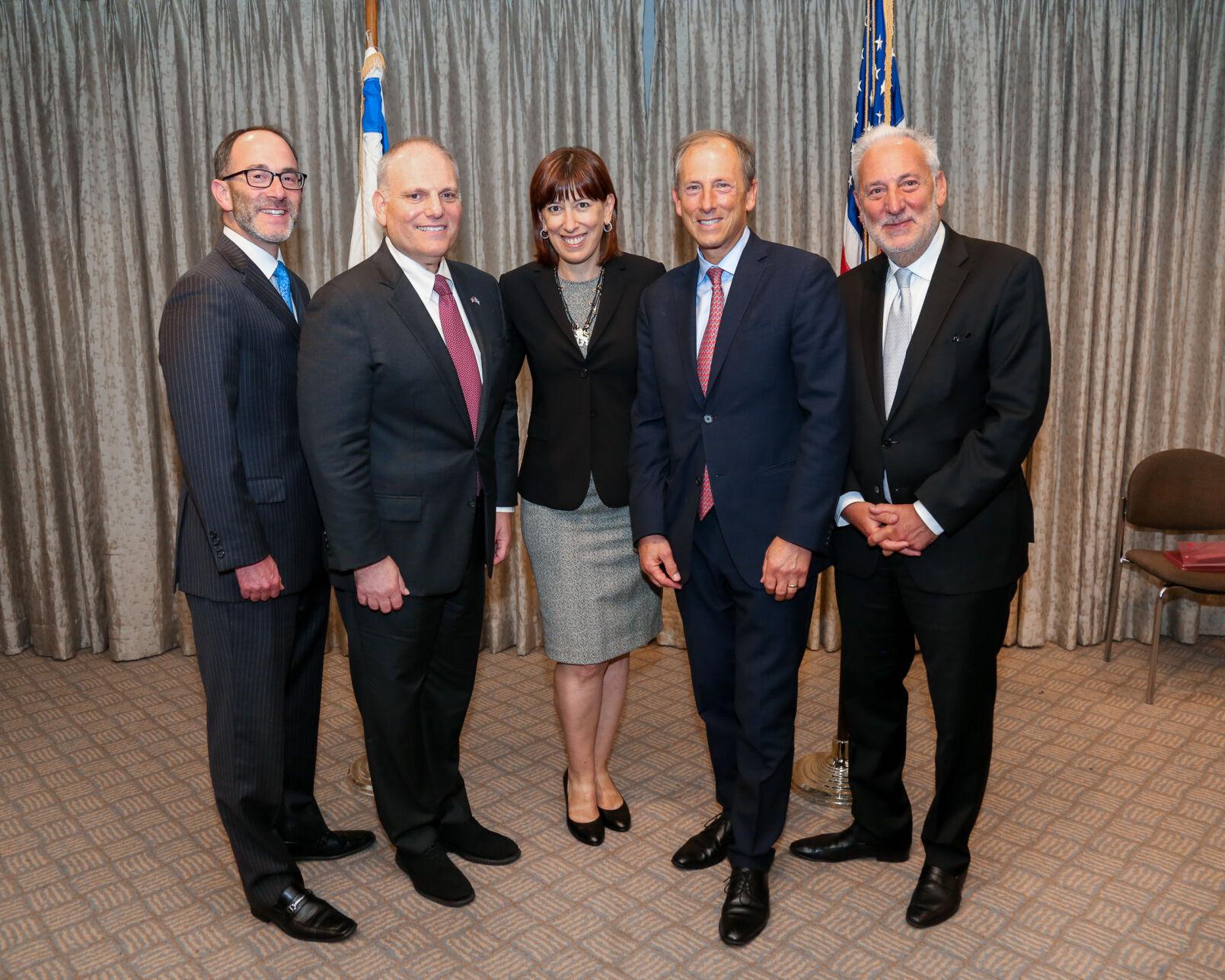 COURTNEY BYRNES | STAFF REPORTER
Article reprinted with permission from Cleveland Jewish News
Prior to his U.N. General Assembly address, Israeli Prime Minister Yair Lapid met with about 35 leaders from the Jewish Federations of North America and the Conference of Presidents of Major American Jewish Organizations Sept. 21, including current and former Clevelanders.
From the Jewish Federation of Cleveland were President Erika B. Rudin-Luria, immediate past board chair J. David Heller and active leader Jason Wuliger. Former Clevelanders included William C. Daroff, CEO of the Conference of Presidents who grew up in Shaker Heights, and Eric D. Fingerhut, president and CEO of JFNA.
"We were honored to meet with Prime Minister Yair Lapid, and grateful that he prioritized meeting with leaders of the North American Jewish community ahead of his address to the United Nations General Assembly," Daroff and Fingerhut said in a joint statement.
"In our meeting, we discussed important issues such as rising antisemitism around the world and the threat of Iran, about which we are mutually very concerned. We are heartened by his shared commitment to strengthen Israel-Diaspora relations and look forward to continuing our close collaboration with the Israeli government on issues of common importance with the North American Jewish community."
Lapid was in New York Sept. 22 for the U.N. General Assembly.
Recently returning from a mission to Israel with Cleveland business leaders, Rudin-Luria attended the meeting with the prime minister and said that hearing from him and Israelis gave her hope. David and Becky Heller and board chair Dan Zelman were also a part of the mission, which returned Sept. 19.
"The combination of what we heard from people on that trip, from what we heard from people in Israel, and hearing from Prime Minister Lapid, made me feel hopeful and optimistic about what can be accomplished in the region through diplomacy, and what can be accomplished through building relationships," Rudin-Luria told the Cleveland Jewish News Sept. 28.
She said it was a warm discussion in which the American Jewish leaders were able to get a good sense of the prime minister and ended with a question and answer session.
"He talked about how the best thing we can do is to have conversations and to have disagreements, and that the worst thing we can do is split the world between those who like us and those who have problems with us," Rudin-Luria said. "He talked about having discussions with everyone. He talked about how Israel has a great story to share."
During the time for questions, he shared his excitement around the Abraham Accords and viewing the leadership of the United Arab Emirates as a friend to listen to and have real conversations about serious issues.
Rudin-Luria said Heller asked a question about Ukrainian refugees and the new Olim from Ethiopia, in which Lapid talked about his commitment to Israel welcoming and absorbing new immigrants.
Lastly, she said he talked about the American Jewish community and a want for close relations as Israel prepares for its 75th independence day.
"He said this isn't just an Israel celebration, this is a Jewish celebration," Rudin-Luria said. "He looked at the group and said, 'you're my family.' And while he used the word 'unity,' he said while it's not about unity among the Jewish people, it's about respect and people respecting each other."
Fingerhut, who grew up in Cleveland Heights and Shaker Heights, spoke with the CJN Sept. 22.
He said the meeting with Lapid was an off-the-record event, so he could not go into further detail about what was discussed.
"I think it's important to say that we really do value the dialogue that North American leaders and particularly our Federation leaders have had, not only with this prime minister, but with every single prime minister of the state of Israel," Fingerhut said, speaking from his office in New York City.
"It's not something we take for granted, and it is something that we highly value. And so we appreciate that Prime Minister Lapid is continuing in the tradition of all of his predecessors of seeing the leadership of the North American Jewish community as the central partner in the mission of the State of Israel and of the Jewish people worldwide."
Fingerhut was in Ethiopia and flew to Israel with 209 Ethiopian immigrants on their way to make aliyah in Israel Sept. 14. Michelle Hirsch of Orange and her mother, Carmi Stein, of Moreland Hills were also on that mission of 60 people.
"It was a really very special experience," Fingerhut said, explaining the group of Olim were some of the 3,000 Ethiopians who are expected to immigrate to Israel within about 18 months following a government decision allowing the immigration wave under family reunification.
Fingerhut contrasted the mood of the Ethiopians with that of the Ukrainians and Russians with whom he flew earlier this year, who were facing uncertainty about their families and their own futures.
"These were people who've been waiting for years to make aliyah," he said, "to be reunited with family members who already made aliyah, who shared the dream of Zion and Jerusalem."
He said the mood was celebratory.
"It was just a complete celebration and just ecstatic to be with people," he said. "I'm so proud of Israel and our partners at the Jewish Agency for Israel, who organize and bring these Olim to Israel, and of course, the Jewish community in North America that provides the funding and the resources for it."
Fingerhut said more than half of the 3,000 immigrants from Ethiopia have arrived in Israel where they are placed at one of five absorption centers. The Federation mission visited an absorption center at Kiryat Gat in southern Israel.
As to the resettlement from Russia and Ukraine, Fingerhut said more than 30,000 people have immigrated to Israel from those two countries.
"And I think that it's very reasonable to expect that given the growing political crisis in Russia, these numbers are going to go up significantly, coming from Russia," Fingerhut said.
Heller, whose term as board chair of the Jewish Federation of Cleveland finished this year, has been appointed to chair the next phase of the emergency campaign for JFNA.
Fingerhut said a "huge part" of JFNA's fundraising campaign is to provide core support for the Jewish Agency for Israel, adding that JFNA has raised more than $70 million in emergency funds since the beginning of the war in Ukraine for aliyah, humanitarian relief for work done by the Jewish Agency for Israel and by the American Jewish Joint Distribution Committee. Michael Siegel, who splits his time between Beachwood and Bonita Springs, Fla., is chairman of the board of trustees of The Jewish Agency for Israel.
Some of those funds also aid NGO's working in and around Ukraine.
"But we expect there will be more, we're going to have to go beyond that, and particularly because of the Russian situation getting worse," Fingerhut said.