08/04/2016
Learning Importance of Jewish Identity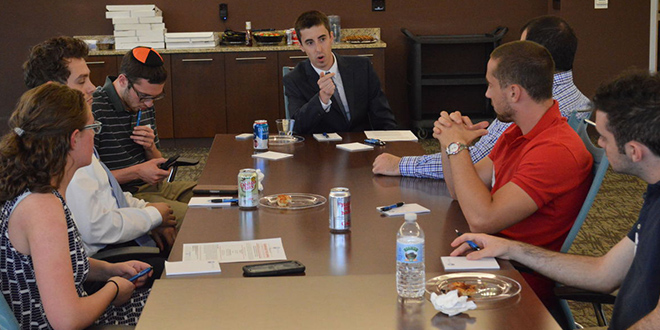 College students learn about importance of Jewish identity
Article reprinted with permission from Cleveland Jewish News.
By Ed Wittenberg
Ten college students learned about the importance of having a strong Jewish identity and expressing their passion for Israel at a program July 11 at the Jewish Federation of Cleveland's Mandel Building in Beachwood.
Daniel Pearlman, campus coordinator for New England and New Jersey at The David Project, facilitated the 90-minute session. He encouraged the students to share their personal connection with Israel.
"We believe in building relationships between student leaders and try to make the campus a more inclusive space for everybody," Pearlman said of the Boston-based David Project, a national Israel advocacy organization. "Unfortunately, Israel is becoming more and more divisive on college campuses, and we want to change that."
Pearlman, a graduate of Solon High School who earned a bachelor's degree this year from the University of Michigan in Ann Arbor, asked the students to think about their first, best and worst memory of Israel.
Josh Friedman, a Beachwood High School graduate who will be a junior this fall at the University of Pittsburgh, recalled a simulated Israel trip as a kindergartner at the former Agnon School – now the Joseph and Florence Mandel Jewish Day School in Beachwood – as his first memory of Israel.
"They told us we were going to Israel, and they took us to the cafeteria and had a slide show and went through all the things we would do," said Friedman, who serves as an information technology intern at the Federation this summer. "Then it kind of came full circle when we went (to Israel) in eighth grade."
Pearlman, who lives in Boston, said he had a similar first experience.
"I learned about Israel in Hebrew school," he said. "The summer after my junior year of high school, I went with Noah Bar-Shain (one of the 10 college students who took part in the program) on a Cleveland-based trip called Write on for Israel – an Israeli journalism advocacy program – and I remember being amazed by everything there. I immediately felt a deep connection to this country that I'd never been to before."
Nadav Pecha, a Solon High School graduate who will be a senior this fall at The Ohio State University in Columbus, where he serves as president of Buckeyes for Israel, helped Pearlman facilitate the discussion. Pecha, who also serves as an anti-BDS intern with the Federation's community relations committee this summer, asked the students to discuss a personal experience related to Israel.
Tori Williams, a graduate of Brush High School in Lyndhurst who will be a junior at John Carroll University in University Heights this fall, said even though JCU has its own Hillel, it's a Catholic, Jesuit university with only about 15 Jewish people on campus.
"It's very interesting to talk about Israel and Judaism on our campus because our Hillel isn't for the Jewish students necessarily," she said. "It's for the Catholic students so we can educate them on campus.
"It's challenging, but it's worth it to be able to shift someone's mindset a little bit and give someone a glimpse into what Israel's all about."
Pearlman encouraged the students to talk to leaders of student groups on campus, get to know them and maybe attend some of their events.
"Try to get more involved on campus, and share these stories with them," he said. "I love hearing them, and I'm sure they'd also love hearing them."
---
Related Items