11/02/2018
Lewinsky Discusses Cyber Bullying; Cohen Receives Bass Award
Article reprinted with permission from Cleveland Jewish News.
By Alyssa Schmitt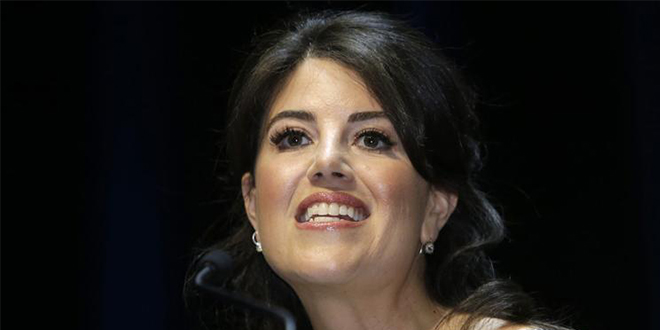 After nearly a decade of staying silent, Monica Lewinsky said she is once again in the public eye to take back control of her narrative and advocate against bullying during the Jewish Federation of Cleveland's women's philanthropy Signature Event Oct. 29 at Landerhaven in Mayfield Heights.
That night, Nan Cohen was honored with the Ruby Bass Award for her dedication to the Cleveland Jewish community and the women's philanthropy campaign.
Lewinsky has a particular focus on cyber bullying as she said she was among the first to experience online harassment. Until news of her relationship with then-President Bill Clinton broke in 1998, she explained people had only gotten their news through radio, TV or print. In 1998, that changed with the addition of the internet. In addition, a report based on the investigation between her and Clinton was one of the first of its kind to be made public online by Congress, which anyone could read.
"In 1998, after having been swept up into this improbable romance, I was then swept up into the eye of the political, legal and media storm that we had never seen before," she said. "Now, if the investigation had unfolded only a few years earlier, it would have been against a backdrop of a much lower, much less crowded media landscape."
Lewinsky said when she walks into a room, people tend to know a lot about her, so to open her talk discussion, "The Price of Shame," she told the audience of about 230 women some "Monica Lewinsky Jewish trivia."
"First, I can bake a mean challah despite the fact that I am a terrible cook," she said. "Second, is that the first of me wearing berets did not begin in Washington D.C. It actually started at my younger brother's bar mitzvah. ... I grew up in a Conservative Jewish family, we had shabbat on many Friday nights."
She joked that she didn't have a bat mitzvah because when her father asked if the party or the ceremony was more important, 12-year-old Lewinsky answered party.
"Over the course of my life, my relationship to my heritage and my religion has actually been jagged," she said. "My strong sense of family is rooted in the cultural traditions of Judaism but there have been periods in my life where my faith has been challenged and 1998 was one of those times, particularly in the aftermath."
In that time, she said she was fat shamed, humiliated, ridiculed, objectified and gradually came to realize there were two Monica Lewinskys, a public one and a private one. The public version was constructed by various "political factions in the media" and branded with a "little fact and a lot of fiction."
"My friends didn't know that Monica, my family didn't know that Monica," she said. "This Monica, the real Monica standing here today, I didn't recognize that Monica either. I was seen by many but truly known by few. And I get it, it was easy to forget I was dimensional, have a soul and was once unbroken."
She brought up the story of an 18-year-old male college student who jumped to his death in 2010 after a recording of him being intimate with another man was made public online and he was ridiculed for it. His death became a turning point for Lewinsky.
"It contextualized my own experiences and I then began to look at the world around me in a different way, a world that was now full of public humiliation and bullying," she said.
Her return to the public eye started with a 2014 essay in Vanity Fair. Since then, she has done multiple speaking engagements and marketing campaigns to fight cyber bulling.
The Oct. 27 shooting that took the life of 11 people at Tree of Life Congregation in Squirrel Hill, a neighborhood of Pittsburgh, was also noted at the event. When Sandy Wuliger went to light memorial candles for Lion of Judah members who have died, an extra candle was lit for the victims of the shooting.
"We must remain vigilante about our own security. This has been and will continue to be a high priority of our Jewish community," said Erika
Rudin-Luria, Federation incoming president. "The terrorist did not stop to ask, 'What type of Jew are you? What are your political beliefs? How did you vote in the last election?' All of us are seen as one and the same, equal targets to people filled with hate. There will be many people who will try to lay blame for why this happened. Let's commit ourselves to not let those different views divide us."
---
Related Items