02/06/2018
Like Mother Like Daughter
A Lion of Judah Endowment Fund will ensure that your support of community needs will go on forever.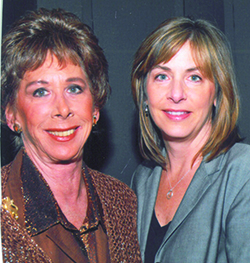 By Beth Wain Brandon
My family practiced giving tzedakah for as long as I can remember. We spent holidays delivering food and blankets to those in need. Each child in my family had a tzedakah box in their room, and every holiday my dad would pass one around. My parents expressed how important it was to be grateful for what we had, and to always give something back to the community in which we lived. This lesson reached far back for my father to his childhood in New York City's Lower East Side where he grew up in a small apartment above a grocery store. He saw how those from his father's small community in Russia would gather to pass a hat around collecting money for families who struggled the most. This was the model of "Federated Giving" that my father grew up with.
Both of my parents were involved in the Jewish Federation of Cleveland, my father as a Chair of the Campaign for Jewish Needs, and my mother as a Lion of Judah* for as long as I can remember. She loved being a Lion, and wore her pin proudly. One of her favorite Lion stories occurred at an airport while she was travelling. She was wearing her pin and a harried mother holding a baby saw her and exclaimed, "Oh! You are a Lion! Can you please help me?" And handed her the baby to hold!
I became deeply involved in Federation after I stopped working full-time. It was then that I gained an appreciation for all that Federation does. I especially enjoy being part of Women's Philanthropy. I value the idea of women giving gifts in their own names, and it is great to see women coming together with philanthropy serving as the common bond.
I became a Lion of Judah after my mother passed away. I proudly wear her pin and feel such a strong and meaningful connection to her.
At first I didn't understand the significance of the flame on her pin, and later I learned it meant that she had endowed her Lion of Judah gift*. She didn't talk about it much, but knowing that she had endowed her gift inspired me to do the same.
It took just two phone calls to change the beneficiary on an insurance policy to create my Lion of Judah Endowment (LOJE)**. The Federation development professionals were helpful, and they worked together with my financial advisor. My husband Bob was happy for me to do this and was very supportive.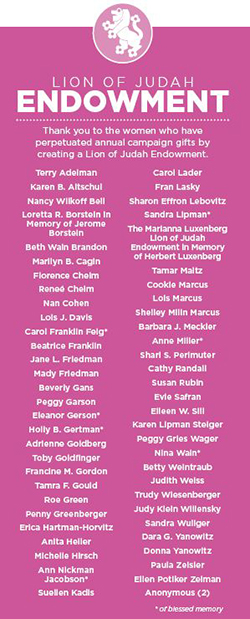 In recent years Women's Philanthropy has started a new tradition. At the annual Signature Event*** we light candles in memory of those who created LOJEs but are no longer with us. It is such a warm feeling to know that my mom is being remembered by the Federation, and it is especially meaningful because my sisters and I are there, and many of my mom's friends are there, too.
Just as my mother set an example for me, I hope I am setting an example for my three daughters. It is wonderful to know that my LOJE will keep on giving to our community — beyond me and my family, and for generations to come.
*Lions of Judah are women who make individual gifts of $5,000 or more to the annual Campaign for Jewish Needs.
** A Lion of Judah Endowment (LOJE) perpetuates a Lion of Judah gift to the annual Campaign for Jewish Needs.
***An annual event for Lion of Judah & Pomegranate Society donors (women who make individual gifts of $1,800 or more to the annual Campaign for Jewish Needs).
---
Meet Lisa Hacker
For more information, contact Lisa Hacker at 216-593-2792 or lhacker@jcfcleve.org.
---
Related Items