03/16/2021
Local Pre-Teen Selected for National Design Team
PJ Our Way, the Next Chapter of PJ Library, Welcomes a New National Design Team Member from Cleveland
Liora Fieldman, 10, of Beachwood was selected by the Harold Grinspoon Foundation (HGF) in partnership with the Jewish Federation of Cleveland to join the PJ® Our Way National Design Team.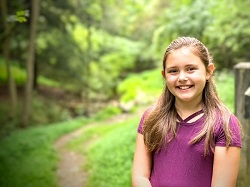 PJ Our Way is the PJ Library® program that gives 9-to-12-year-old readers (known as "Tween Members") the chance to choose their own age-appropriate book or graphic novel with Jewish characters and storylines each month. Tween members log in to a child-safe website to select their books, leave reviews, watch videos, read blog posts, and connect with each other.
Liora, a 4th grader at Joseph and Florence Mandel Jewish Day School, is the daughter of Alyson and Matt Fieldman. She is a member of Congregation Shaarey Tikvah. Liora and thirteen other team members from across the US and Canada have early access to monthly selections to interview authors, create web content about the books, participate in workshops, and lead conversations among their peers.
"We are thrilled to have Liora on our team," said Rachel M. Goodman, who directs the National Design Team. "Team members are great role models for tweens who want to connect to Judaism in fun and engaging ways."
"I love to read all different kinds of books," Liora said. "Being a part of the PJ Our Way National Design Team has been fun. I am reading manuscripts before they're published and I can help decide what other kids get to read!"
The PJ Our Way program is supported by the Harold Grinspoon Foundation based in Agawam, MA. To learn more, please visit www.pjourway.org or contact Leah Taylor at ltaylor@jcfcleve.org.