01/20/2015
Locals Involved in Nat'l PJ Our Way Pilot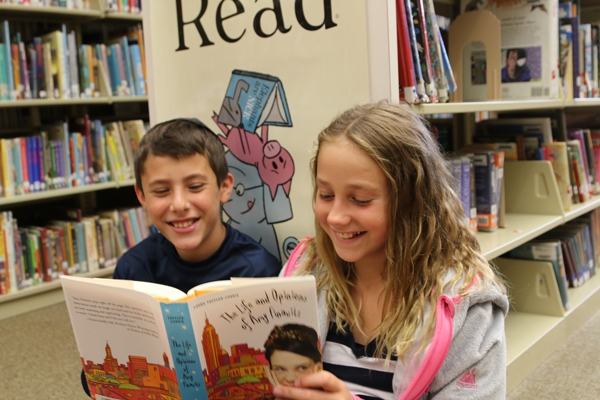 The Jewish Federation of Cleveland has partnered with the Mandel Jewish Community Center to introduce PJ Our Way, a new pilot program created by the Harold Grinspoon Foundation. This pilot program was designed to give 9- to 11-year-olds ownership over the material they read by allowing them to select their own books and express their opinions online. Families can register for this free program at www.pjourway.org.
Fifteen preteens from Beachwood, Moreland Hills, Pepper Pike, Shaker Heights, and Solon have been selected by PJ Our Way as youth leaders for "Cleveland's Local Design Team." This prestigious post gives young people the opportunity to develop leadership skills, while connecting with nine other PJ Our Way pilot communities across the country.
"We are so proud of our Local Design Team, who are representing Cleveland on the national PJ Library stage," said Kelly Rubanenko, Director of Growing Jewish Cleveland & Young Family Outreach. "We know they will inspire many other Jewish Cleveland children to participate in this amazing, free, book program."
PJ Our Way allows participants to select one of four books every month, giving them more choice on their journey toward being life-long readers while introducing them to Jewish ideas. What makes this program unique is its online discussion portal which lives on the PJ Our Way website, www.pjourway.org. Here, PJ Our Way participants can create book trailers, videos, quizzes, author interviews, and other media to communicate with peers about the books.
PJ Our Way is an extension of the successful PJ Library program. Since PJ Library began in 2009, over 4,200 Cleveland children, ages 6 months to 8 years have enrolled in the program. And, 100,000+ Jewish books and CDs have been delivered to the homes of local children for free, strengthening their Jewish connection.
For more information or to register for PJ Our Way, contact the Jewish Federation of Cleveland's Kelly Rubanenko at krubanenko@jcfcleve.org, 216-593-2865, or visit www.pjourway.org.