02/09/2016
Mandel JDS Adopts New Curriculum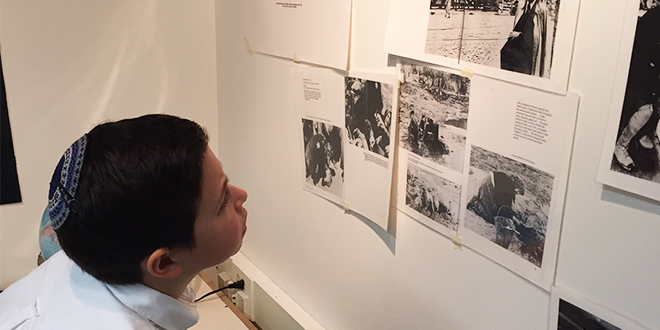 Mandel JDS Adopts Facing History Curriculum, Students Benefit
The Joseph and Florence Mandel Jewish Day School (Mandel JDS) has recently adopted an alternative, innovative curriculum for use in Language Arts and Social Studies classrooms. The curriculum was developed by Facing History and Ourselves, an organization whose mission is to shape a humane, well-educated citizenry that practices civility and preserves human rights.
In the summer, Language Arts and Social Studies teachers at the middle school level attended various Facing History seminars across the country in Boston, Los Angeles, and Cleveland in order to best adapt their model to that of the existing curriculum in place. Teachers came back with the resources and tools they needed to engage students in a comprehensive unit entitled "Holocaust and Human Behavior."
Through this program, students are asked to investigate the events leading up to the Holocaust in order to better understand the historical landscape in which it took place. Through various readings, activities, and reflections, students in a Facing History class learn to choose knowledge over misinformation, compassion over prejudice or bullying, and participation over indifference or resignation.
Seventh grade student Ryan Rovner spoke of the emotional impact of Facing History and Ourselves. "Going through the different lessons and readings make it so much bigger than just the history of the Holocaust. It becomes about you and your impact on the world."
Middle School Language Arts teacher Adam Levine found great success in using the Facing History model in his classroom. "It was really an enriching experience for both students and teachers alike. In having students reflect on their own position in society and the world around us, the program aims to achieve social justice from the inside out."
About the Mandel Jewish Day School
Founded in 1969, Mandel JDS is Cleveland's first Jewish day school accredited for educational excellence by the Independent Schools Association of the Central States (ISACS). The school also exceeds Ohio education standards for all core curricular subjects. Originally The Agnon School, in August 2015 the name changed to Joseph and Florence Mandel Jewish Day School, in appreciation of a $17,050,000 grant. While the name is new, blending superior general academics and Jewish studies remains central to the school's mission, as does teaching to a broad spectrum of learners. Open to the entire Jewish community, Mandel JDS enrolls more than 350 students, 18 months – 8th grade, from diverse Jewish backgrounds.
---
Related Items