05/03/2016
Mandel JDS 8th Graders in Israel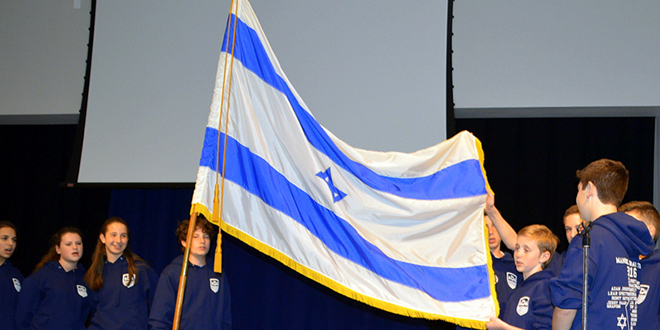 On the last Friday before Spring Break, the 8th grade class of Mandel JDS (along with their parents, and the entire school) stood proudly in front of the Israeli flag, singing Hatikvah, Israel's national anthem. This tradition, commemorating the eighth grade's upcoming voyage to Israel, has been around for nearly as long as the annual pilgrimage itself.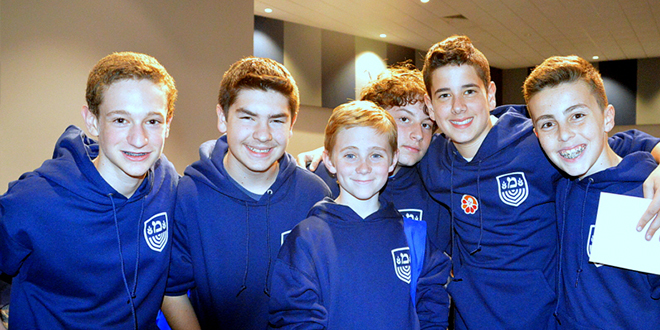 This trip marks the 19th time Mandel JDS (formerly Agnon) has embarked on the overseas journey. The trip takes the students from the northern tip of Israel, all the way to the south, visiting cities such as Tel Aviv, Jerusalem, Eilat, and Beit She'an (Cleveland's sister city) along the way. Students visit holy sites, learn about the history of the land, practice their Hebrew dialogue and connect with Israeli peers.
At the Send-Off, Ines Ades, veteran Kindergarten teacher at Mandel JDS, reminded the students of an activity she did with them when she had them in her Kindergarten class. In order to let the students experience Israel first hand, she doled out mock passports, had them pack small bags, and took them on a field trip all the way to, well, the cafeteria. There, they were given Israeli delicacies, and marveled at pictures of different Israeli cities and landmarks on the walls. This was the beginning of the journey.
Flash forward eight years later, and now the students are embarking on the authentic journey to Israel, and yes, this time they brought their real passports.
To send the students off on a high note, they receive a fully stocked bag, rife with toiletries, sunscreen, water bottles, journals, and of course, treats for the twelve hour flight. Various religious community members attend, as well, and offer a variety of prayers for the students and safe travels. At the conclusion of the ceremony, the youngest students in the school storm the stage in order to give notes filled with prayers that the eighth grade will place in the cracks of the Western Wall, one of the holiest sites in Israel.
Both teacher chaperones and students will continue to blog and provide updates throughout the trip. To follow along with the children in Israel, go to Mandel JDS' Facebook page: https://www.facebook.com/MandelJDS/.
Founded in 1969, Mandel JDS is Cleveland's first Jewish day school accredited for educational excellence by the Independent Schools Association of the Central States (ISACS). The school also exceeds Ohio education standards for all core curricular subjects. Originally The Agnon School, in August 2015 the name changed to Joseph and Florence Mandel Jewish Day School, in appreciation of a $17,050,000 grant. While the name is new, blending superior general academics and Jewish studies remains central to the school's mission, as does teaching to a broad spectrum of learners. Open to the entire Jewish community, Mandel JDS enrolls more than 350 students, 18 months – 8th grade, from diverse Jewish backgrounds
---
Related Items