04/21/2016
Mandel JDS Students Act as Museum Docents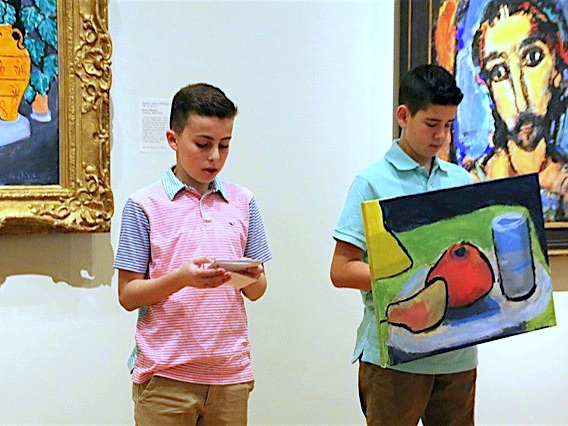 The Cleveland Museum of Art had an additional 13 docents this weekend. On April 17, the eighth grade class of Mandel JDS was tasked with presenting the work of a master painter to an audience filled with parents, siblings, and community members.
The presentation is the culmination of a year-long art history study in which each student learns about the life of their selected painter, and ultimately emulates the style of their painting through a work of their own. Finally, the students pack up their paintings and head to the museum, where they give a five to ten minute presentation about the life of that painter, directly in front of their work.
Artists spanned from Renaissance to Contemporary, from Henri Matisse to Rene Magritte, Sandro Boticelli, Vincent Van Gogh, and Claude Monet. Five students studied living artists, one of whom, Jake Moses of Solon, communicated back and forth with his artist, Carol Schiff, of Florida.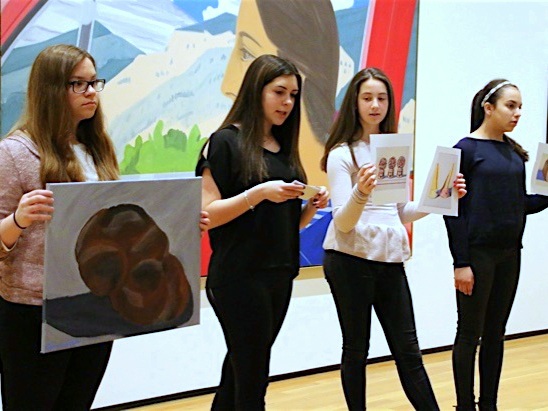 "This is something we have been doing for 23 years," said Barbara Weiss, veteran Mandel JDS art teacher. "One thing we always notice is that, as we go through the museum acting as docents, we pick up random museum visitors along the way who are drawn to our students as sources of intriguing, factual information. What a special opportunity for them to get to share their knowledge."
The yearlong art study is a part of an even larger scale interdisciplinary project undertaken by Mandel JDS. At the beginning of eighth grade, students choose a theme or topic they are interested in. After work shopping with teachers, the students essentially complete a research project in each of their core subjects relating to their selected theme. In Art, students select artists whose life and work exemplifies their theme. The culminating program, Integrated Project, has each student present what they learned in their classes in front of the school and community at the end of the year, almost as a rite of passage.
"We are extremely proud of our kids," beamed Kim Favor, Middle School Director. "The fact that these students are able to stand in front of complete strangers and present college-level material in an engaging way is truly remarkable."
Founded in 1969, Mandel JDS is Cleveland's first Jewish day school accredited for educational excellence by the Independent Schools Association of the Central States (ISACS). The school also exceeds Ohio education standards for all core curricular subjects. Originally The Agnon School, in August 2015 the name changed to Joseph and Florence Mandel Jewish Day School, in appreciation of a $17,050,000 grant. While the name is new, blending superior general academics and Jewish studies remains central to the school's mission, as does teaching to a broad spectrum of learners. Open to the entire Jewish community, Mandel JDS enrolls more than 350 students, 18 months – 8th grade, from diverse Jewish backgrounds.
---
Related Items