05/03/2016
Mandel Jewish Day School Israel Blog
8th Graders at Mandel Jewish Day School are embarking on an Israel journey – read about their experience here! 
May 3, 2016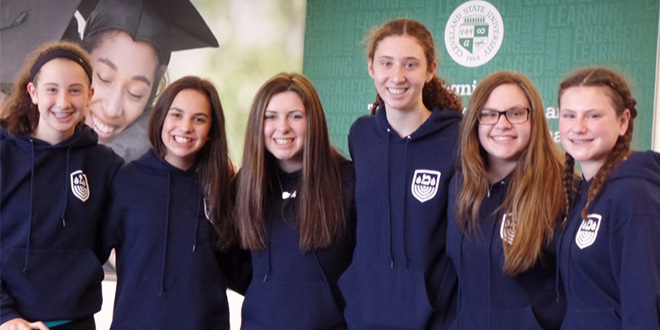 by Adam Joseph, Mandel JDS Middle School Teacher
Our trip to Israel started off on May 2 with a two hour plane delay in New York City. I do not think any of the students or chaperones thought this would end up being such an amazing experience. The students spent some of this time getting acquainted with a new friend from Amsterdam. After exchanging numbers and getting to know each other, they were already saying goodbye to a wonderful new person in their lives. Then, the students occupied themselves by making more new friends who were traveling to Israel as well as taking rides on the airport trolley. Before we knew it, we were on our way.
After a long journey, we finally arrived in Israel. The students woke up on the plane to the beautiful sight of Tel Aviv. Soon after, we met up with Head of School Jerry Isaak-Shapiro and enjoyed our first meal in Israel with him. We are currently driving to Beit Shean and singing along to some great Israeli songs. After a few more songs, we will have our amazing bus playlist for the trip.
May 4, 2016
by Jake Moses, Mandel JDS 8th Grader
During our first full day in Israel, students began to feel Israel's "magic" in the air. Our 8th graders started the morning with great discussions by the Kineret. Then, after eating breakfast, we took an hour bus ride to meet with our Bet Shean buddies. After being in contact with our buddies for much of the school year, it was wonderful to finally see all of them in person. During this amazing experience, we learned more about each other throughout the day -- all while playing fun games and competing in engaging challenges. One challenge involved building a raft out of bamboo and rubber mats in order to paddle across a river. The students can't wait to see what tomorrow brings!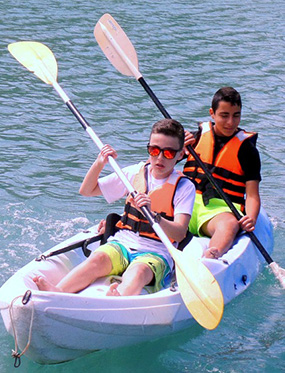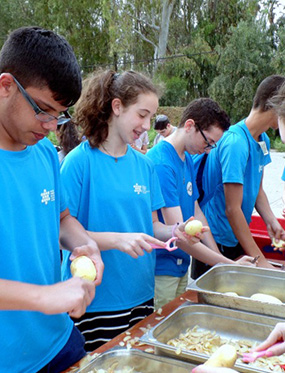 May 10, 2016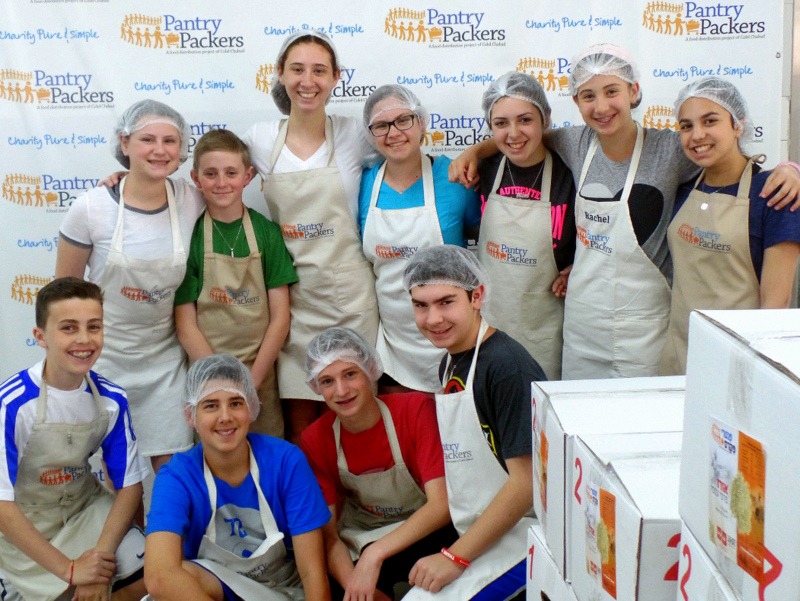 by Julia Koller, Mandel JDS 8th Grader
We started our morning off by doing tzedakah work at Pantry Packers, an Israeli food bank that donates to families in need all around the country. We packed bags of rice that will eventually be a part of larger care packages that will feed multiple families for months. All of us really enjoyed this experience and loved giving back to the community. Feeling very satisfied by volunteering our time, we plan on continuing to give back at home.
Today is Yom HaZikaron, the day of remembering fallen soldiers and those killed in terrorist attacks. In America on Memorial Day, friends and families have celebrations that include parties and barbeques. But in Israel, there is a much different mood. Instead, the people of Israel are serious. They are sad and have heavy hearts. To remember this day, we took a tour of Mount Herzl and visited the graves of many important fallen soldiers. We first watched a movie that taught us about Herzl's life and his importance to the creation of Zionism and the State of Israel. Next, a few 8th graders read pieces about five soldiers – including a personal story by our guard, Omri. The stories were very emotional and opened all of our eyes to the reality of losing someone important to us as well as the State of Israel. After this very emotional and educational morning, we had some free time at a park nearby.
Tonight we were lucky enough to attend a memorial ceremony on Ammunition Hill (a famous battle spot). This ceremony was filled with many sentimental and powerful stories about Lone Soldiers who came here to defend Israel. These stories helped us to realize the effect one soldier can have on an entire community of people. Overall, Yom HaZikaron made an important impact on all of us. This day filled us with a sense of pride in and belonging to our Jewish community and Israel.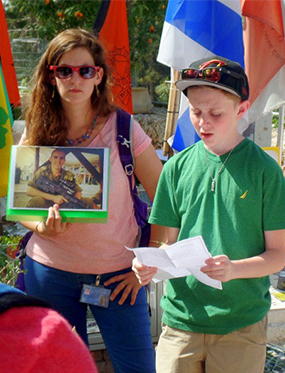 May 11–12, 2016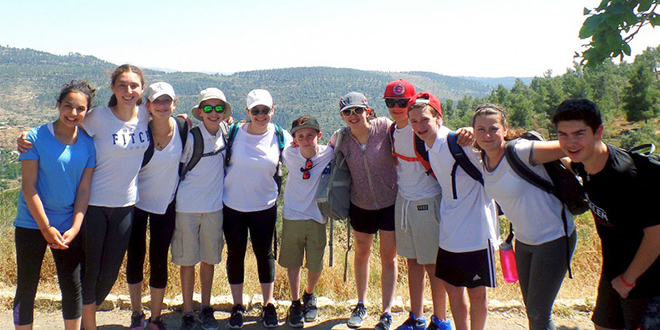 How do we describe Yom HaZikaron and Yom Ha'atzmaut in Israel? Yesterday, for Israel's Memorial Day (Yom HaZikaron), we visited Har Herzl (Mt. Herzl) and saw families and soldiers visiting the graves of soldiers who died protecting the state. One grave site that stood out was Yoni Netanyahu's. He was the brother of the Prime Minister ("Bibi" Netanyahu) and he was the only soldier killed in the rescue of the Jewish and Israeli passengers who were held by terrorists in 1976 in Entebbe (there were three TV movies made about the "Raid on Entebbe" and everyone says that it was a miracle that Israel saved nearly all of the passengers).
Yad Vashem is Israel's memorial to the Holocaust and is also on Mt. Herzl. The feel is different than the Holocaust Museum we all saw in Washington D.C. on our 7th grade trip. It's harder to see and in a way stronger, especially about Israel. We saw a memorial to Oscar Schindler, one of the "Righteous Gentiles" who saved hundreds of Jews during World War II.
And, that night, the day turned into Yom Ha'atzmaut! We danced on the stage, there was music all over, everyone was yelling and singing and painting themselves with Jewish stars and flags. It was amazing. We never saw anything like it.
The next day, we had amazing food that Israelis call "al ha-aish" which is like Hebrew for barbecue. We played soccer in a Jerusalem park called Gan Soccer (Soccer Park) with Israeli kids our age, with picnics going on all over the place. And, then we're driving to the South of Israel. We wish this trip would go on longer!
Stay tuned for more trip updates! 
---
Related Items