03/30/2016
Meet Mandel JDS's Student Wordsmith
Mandel Student's Pen Proves to Be Powerful at State Writing Competition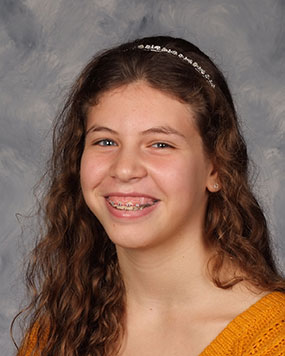 They say a pen is mightier than the sword - a sentiment that couldn't be more true for the sharp wordsmith, Allison Dettelbach, seventh-grader at The Joseph and Florence Mandel Jewish Day School (Mandel JDS). Dettelbach recently qualified for the statewide Power of the Pen Finals after competing in district and regional tournaments over the course of the year.
Power of the Pen is an Ohio-based writing competition that asks students to write three original pieces in three, stringent forty minute time windows. The regional tournament - just one of many in the 35-event Power of the Pen series - consisted of 183 total students - 87 seventh-graders, and 96 eighth graders. Dettelbach, a seventh-grader, won a "Best of Round" award which propelled her to the State Competition.
In addition to Dettelbach, four other Mandel JDS students competed in the regional tournament that feeds into the state tournament: Sammy Jennings (7th grade), Alexa Plotkin (7th grade), Noi Sandlers (8th grade), and Leora Joseph (8th grade).
Dettelbach will travel to The College of Wooster on Friday, May 26, in order to compete with over 350 qualifiers from around the state. "I couldn't be more proud of what Allie has accomplished," beamed Adam Levine, her writing coach and language arts teacher. "This girl has talent oozing out of her. She takes the simplest of ideas, and turns them into complex, textured, beautiful pieces that show maturity far beyond her years. I can't wait to see what she has in store for the state tournament."
About the Mandel Jewish Day School
Founded in 1969, Mandel JDS is Cleveland's first Jewish day school accredited for educational excellence by the Independent Schools Association of the Central States (ISACS). The school also exceeds Ohio education standards for all core curricular subjects. Originally The Agnon School, in August 2015 the name changed to Joseph and Florence Mandel Jewish Day School, in appreciation of a $17,050,000 grant. While the name is new, blending superior general academics and Jewish studies remains central to the school's mission, as does teaching to a broad spectrum of learners. Open to the entire Jewish community, Mandel JDS enrolls more than 350 students, 18 months – 8th grade, from diverse Jewish backgrounds.
---
Related Items