06/21/2016
Meet David: Internship Spotlight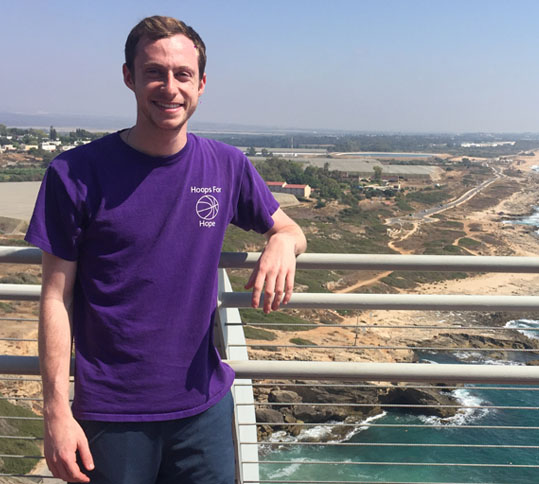 David Immerman shares his experience interning at a startup called Sidekix -- a walking navigation app for the iPhone.
Hi, my name is David Immerman and this summer I am interning at a startup called Sidekix. Sidekix is a walking navigation app for the iPhone which builds customized routes for the user, based on their interests, whether it be restaurants, coffee shops, bars, historical sites, or trendy clothing stores.
Sidekix, similar to most young startups, has a very small office and very few employees. There are only five people who work full time at Sidekix. My first week on the job we worked out of a communal work space at the Namal (Port) in Northen Tel Aviv and all five employees and I sat around one table. Since then we have moved to a new office space on the campus of Tel Aviv University.
As far as the actual work I am doing, I'm in the Marketing Department which, like the rest of Sidekix, isn't so large. The department consists of the co-founding CMO, myself and our other intern, Yoni. Our main challenge as a team is raising awareness of the app and developing its brand. Sidekix has a limited budget, so our team has been focusing largely on social media to raise brand awareness and drive downloads and usage. Yoni and I have been put in charge of our social media channels including Instagram, Twitter and Snapchat. We have been doing a lot of research on successful uses of these tools for businesses, focusing especially on small businesses with limited resources. We are hoping that our research will translate into successful utilization of these powerful social channels and ultimately result in more people discovering and using the app.
In addition to the normal office routine, Yoni and I have been able to take advantage of some very cool opportunities. The other day, our supervisor sent us to Mindspace, a shared work space in Central Tel Aviv which regularly hosts lectures and workshops for members of the startup community. There we listened to Hillel Fuld, a well-known tech blogger and startup advisor, as he discussed his keys to branding a startup and the importance of content to drive industry credibility. After the lecture I asked for his business card and sent him an email later that evening asking if we could meet up for coffee. He responded promptly and we set up a meeting for the middle of July to discuss how to more effectively brand and market Sidekix.
Working at Sidekix has given me great insight into the Tel Aviv startup community and I've very much enjoyed my time there so far, even if the air conditioning in the new office isn't quite up and running yet. I'm looking forward to more meaningful experiences and lessons learned, and hopefully that air conditioning will be fixed too!
---
Related Items