06/26/2017
Meet Hannah: Internship Spotlight
Onward Israel Cleveland participant Hannah Frayman shares her experience as an intern at The Daniel Center.
My name is Hannah Frayman and I'm interning with the Daniel Centers!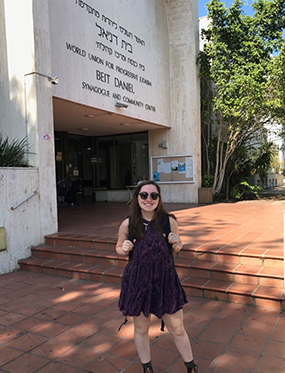 The Daniel Centers is a one of a kind organization working to bring Progressive Judaism to mainstream Israel. Going in on my first day I didn't know what to expect. I knew a little about the organization and what they stand for but wasn't sure about the specifics of what I would be doing. I got to Beit Daniel, which is the main and original location for the Daniel Centers and immediately felt at home. I was greeted at the door by my boss Elana and she gave me and Max (the other Onward Cleveland participant interning there) a tour of the facility as well as an introduction to the people who work there. Everyone seemed very excited to have us there!
We started by going over what the Daniel Centers do and the impact that they make within Tel Aviv and Israel as a whole. The Daniel Centers were founded in 1991 and have "spearheaded efforts for creating an alternative to Orthodoxy, as well as a spiritual and cultural facet to secular life." They are the largest non-orthodox conversion school in all of Israel, they perform around 200 bar/bat mitzvahs a year and have programs like Gan (kindergarten), mother/daughter bar mitzvah lessons and are the leading organization for officiating non-orthodox weddings in Israel. They also work alongside the Tel Aviv municipality to operate over 20 nurseries/schools around the city. And even with juggling all that, they manage to have Shabbat services every week.
In addition to Beit Daniel, the Daniel Centers also have an amazing hotel/hostel called Mishkenot Ruth Daniel, "which serves around 40,000 tourists each year, primarily young Jews from the Diaspora who come on Birthright and other Jewish experience programs (like NFTY)." Mishkenot as well as being a hotel, is also a learning center where they too have two different types of Shabbat services every week and have lectures and classes throughout the week.
My first day after meeting with Elana and their head Rabbi, Rabbi Meir Azari, I was completely inspired by the hard work this amazing organization does. And I knew how important it was for them that we were there to help. I was given the task of helping with outreach/social media in English. One thing I will be working on, alongside Max, is a Life Cycle website which will highlight all the life cycle events that Beit Daniel can perform, i.e weddings, bar/bat mitzvahs, funerals, etc. Something that I will also be promoting is the fact that any American, Canadian, any Jewish person is always welcome to any of the Daniel Center locations. Either to stay for the night at Mishkenot Ruth, have their Bat Mitzvah at Beit Daniel, or even attend a Friday Kabbalat Shabbat overlooking Jaffa.
So far I am having an amazing time working with the Daniel Centers and I cannot wait to see what the next few weeks have in store!!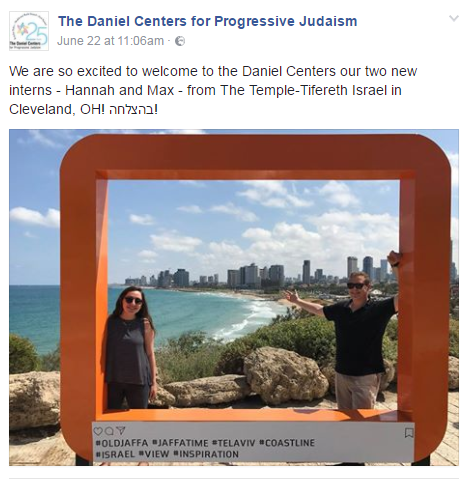 ---
Related Items