08/07/2017
Meet Kendra: Internship Spotlight
My name is Kendra Kaplan and this summer I've been working at CityKids as part of my Onward Israel internship.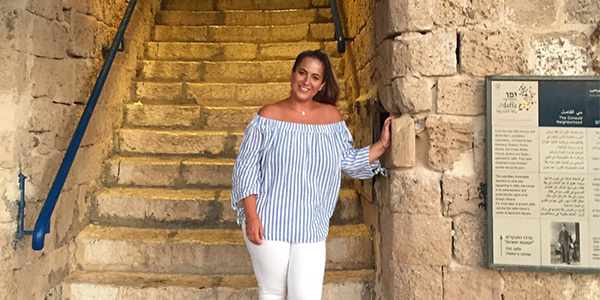 CityKids is a preschool geared towards English speaking families in the heart of Tel Aviv. All are welcome. Families who have made Aliyah, foreign workers and native Israeli families as well. Families come there to feel at home in a predominately no Hebrew zone.
Elvia Fisher, the founder of CityKids, started and ended her around the world trip in Israel over 10 years ago. At the time, she was a nanny for two English speaking families when she realized that there were no resources for the kids. Remember, this was pre-Facebook too! A short time later, CityKids opened it doors in December 2007 with 50 excited families. The first location was on Spinoza Street. Originally, it was supposed to be a community center that offered after school classes. Camp and nursery school was in such high demand so Elvia decided to expand.
In April 2014, they moved to their current location off of Ibn Gabirol Street. They offer English classes, gardening, music, dance, dog training (with child involvement) cooking classes, etc. There are tons of activities so these children can develop emotionally, physically and cognitively. There is a great balance between educational lessons and sensory play. Both are equally important when it comes to a child's development.
There is also a dance studio, art studio, library and playscape where the kids love using their imaginations. There are also three parks nearby with playgrounds that we go to often. Professionally, CityKids advocates for quality Early Childhood Education in israel and stands as leaders in the field. Also, CityKids is affiliated with Ministry of Absorption and licensed through the Ministry of Education.
As far as the staff goes, we have staff from all over. Australia, London, France, America and native Israelis as well. Even though we all come from different locations, we all respect and really enjoy working with each other. Teachers, students and parents have welcomed me with open arms.
I am lucky enough to have worked in every classroom/age. I've been with the ones, twos, threes, three to five and even camp. Even through the diaper changes, the screaming and crying and outfit changes, I would not have changed a thing. These kids manage to make me laugh and smile every single day. I go home every day exhausted but extremely happy. What a rewarding job. I am going to miss my CityKids family so much but I plan on keeping in touch.
---
Related Items