03/16/2021
Meet Marty Shankle, Our New Jewish Volunteer Network Chair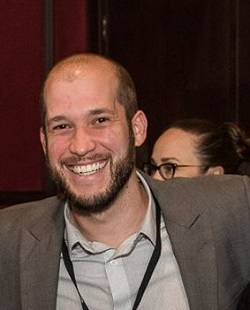 Meet Marty Shankle, our new Jewish Volunteer Network (JVN) chair! Marty shares with us why it's important to give your time, and the value of building community connections through volunteer work.
Tell us a bit about yourself
I'm originally from Canton, Ohio. I graduated from The Ohio State University in 2010 and got my MBA from Kelley School of Business at Indiana University in 2013. I married my college girlfriend and the love of my life, Haleigh, on New Year's Eve 2015. We have two dogs and are expecting our first child, a boy, at the end of April! I'm the VP of National Business Development with Infinity Power Partners. I work with commercial energy users to develop strategic plans on how they can procure power and gas in the most cost efficient and sustainable ways possible. My wife is a senior manager in the FAAS practice at EY. We have both served on the YLD Board for several years. I have served as chair of the YLD Campaign, the Ben-Gurion Society Campaign, and Business Networking Committee. I am an avid Cleveland sports fan, and my favorite team is the Cleveland Cavs. I enjoy reading and writing, and cannot wait to spend time with friends and family this summer. I also enjoy learning more about and educating others on climate change and the opportunities to reverse its current trajectory.
Why is volunteering important to you and your family?
Since I was a child I was always taught that there will be people more and less fortunate than me in life. A responsibility to help others whenever I can was instilled in me from the beginning. My wife was brought up with the same premise, so we have always taken this responsibility seriously. The vision of what the world could look like if everyone took just a few hours to help make a difference is what drives me. If we are not willing to volunteer ourselves, what can our expectations of others be? Furthermore, growing up I was the beneficiary of volunteerism in certain situations which gave me another level of appreciation. Not everyone has the means or ability to give their treasure or their talent, but everyone has the ability to give some form of time.
Why is volunteering a great way to build community connections during times of physical separation?
We all know the feeling you get when you have accomplished something, especially when it improves the lives of others. That feeling is amplified when you are volunteering with a group to accomplish a greater goal. You may not feel excitement over donating one canned good, but when you hear that your one can was part of the 10,000 that were donated you feel a sense of accomplishment. The one day you volunteered in a community garden might not allow you to see the full benefit, but once you hear that community garden fed dozens of families for the year, you know you were a key part of that. It's the feeling of being a part of something bigger than yourself. This is the feeling that builds community connections and I truly believe that feeling is best felt through service, especially during COVID-19 when people felt a loss of their daily community. Volunteerism, through an organization, has provided people with a place to rely on. Furthermore, those benefiting from the volunteerism feel a strong connection to the community in a time when they most likely were not able to rely on their traditional pillars of support.
Anything else you would like to add?
I am truly honored to be chosen as the JVN Chair and am very excited for this opportunity. I feel that volunteerism is something people will crave more and more coming out of this pandemic, and we will be here to support that craving. My hope is that all organizations and causes in the Greater Cleveland community involve the Jewish Volunteer Network by either looking for volunteers or reaching out with volunteers looking for an opportunity. If you have a project you would like to see improve the lives of Clevelanders, JVN would like to help. We are going to continue empowering those who want to change the world, I hope you will join us.
For additional volunteer opportunities, contact Susan Hyman at 216-593-2887 or shyman@jcfcleve.org.