07/12/2017
Meet Max: Onward Participant Spotlight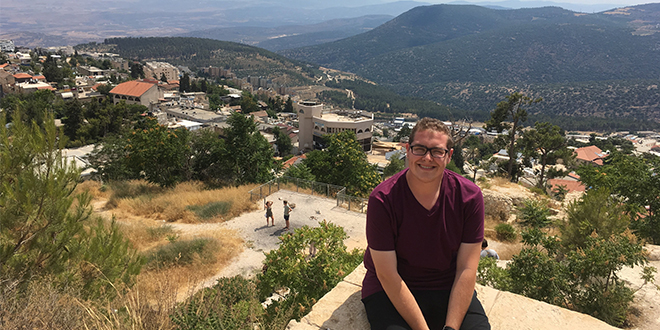 Max Bleich shares his experience so far as an Onward Israel participant.
Hi! My name is Max Bleich and I'm a rising senior at the University of Cincinnati where I major in Judaic Studies and double minor in English Literature and Organizational Leadership. While in college I have developed strong ties with the Jewish community of Cincinnati through my roles as Alpha Epsilon Pi chapter president, a member of the Cincinnati Hillel Board of Trustees, and as a Sixth Grade Religious School Instructor at K. K. Bene Israel Rockdale Temple.
Coming to Israel this summer was a no-brainer. Since previous experiences in this country in high school on the March of the Living (2014) and Taglit Birthright (2015), I had always felt a "lech lecha"-- my own calling to the land of Israel. In the same way that Yehuda HaLevi, the great poet of Medieval Al-Andalusian fame proclaimed, I too feel that "my heart is in the east, and I am at the very edge of the west." Being in the land of our covenant, the historic home of our people, and living here for a short time, has already been so gratifying and meaningful.
This summer I am working at The Daniel Centers for Progressive Judaism, which are comprised of three centers: Beit Daniel, it's flagship synagogue and primary center in Tel Aviv; Miskenot Ruth, its center for lodging, learning, and dining in Jaffa; and Kehilat HaLev, its community center in Central Tel Aviv. Alongside these centers is Tikkun Olam, which is a service learning program run jointly through BINA. My work at these centers and programs have been focused around content creation, including written content for its websites and articles about The Daniel Centers written for English speakers to be used for blogging and release in American publications.
This role at The Daniel Centers is especially important for me as it serves as a major stepping stone in my Jewish journey and in fulfilling my dreams of becoming a Reform Rabbi. The time I am so lucky to spend learning from both Rabbi Meir Azari and Rabbi Dalia Sadan has already proved to be invaluable and intriguing. Not only do I have the advantage of learning more about the inner workings of congregational life and the role of the Rabbi in a Jewish community, but more importantly, how that role exists inside of Israel and in the context of Progressive Judaism.
I feel so incredibly lucky to experience Tel Aviv and other incredible parts of Israel this summer with Cleveland Onward. Thank you so much to The Jewish Federation of Cleveland, Israel Experience, Onward Israel, Rabbi Rick Block from The Temple Tifereth Israel, and Rabbi Meir Azari of Beit Daniel for this opportunity! I can't wait to take everything that I learn about this country, her people, and myself back to the United States come August.
Please feel free to contact me at bleichmj@mail.uc.edu, for any questions or more information about the Israel Experience, Onward Cleveland program.
---
Related Items