07/12/2017
Melanie: Onward Participant Spotlight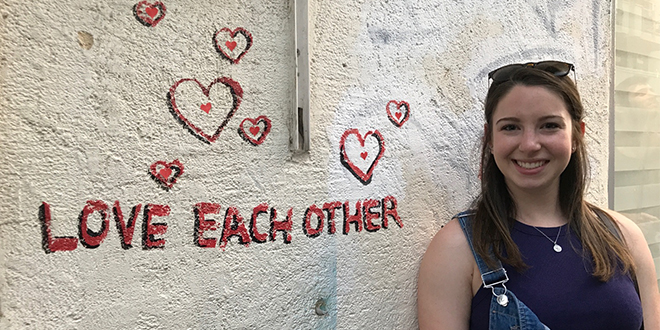 Melanie Blumenthal shares his experience so far as an Onward Israel participant.
So far, my experience here in Tel Aviv has been absolutely incredible! I am truly enjoying every minute of living in Israel and immersing myself in this culture. It is amazing to be able to walk only 15 minutes and be at one of the most beautiful beaches in the world. Or to walk right out of our apartment building and grab a cup of coffee from Cofix on the way to my internship every morning.
One of my favorite places to go is the Carmel Market, or as we call it- the shuk. Its less than a 10 minute walk from the apartment and it's where I purchase all of my groceries (and for great prices too!). I find new foods each time I am there, as well as the cutest clothing stores and shops with Israeli food I always want to try!
This past weekend, my group traveled two hours north of Tel Aviv to visit our sister city, Beit Shean. We toured the Idan Technology Center and learned how this recently transformed center is going to be the future of their city. The guides were extremely happy to be hosting us and teaching us about their lifestyles. Additionally, we got to spend the evening in a local woman's home where she cooked one of the most delicious meals I've ever had. She was from an Egyptian family and her story was so inspirational to all of us! After dinner, we all got to experience the atmosphere of a Kibbutz pub and surround ourselves with the locals from Beit Shean.
After a month of living in Tel Aviv, I am finally getting the hang of things here! I have mastered the bus system, tried so many amazing foods, and have met some really amazing people. I can't wait to continue exploring new places throughout Israel.
Please feel free to contact me at blumenthal.45@osu.edu, for any questions or more information about the Israel Experience, Onward Cleveland program.
---
Related Items