08/01/2017
Meryl: Onward Participant Spotlight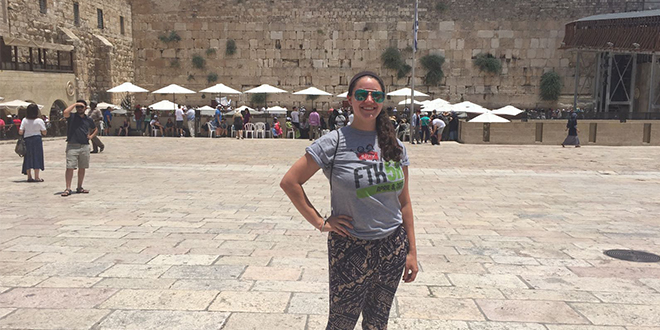 Meryl Schor shares his experience so far as an Onward Israel participant.
Hello! My name is Meryl Schor, and I am a rising junior at Indiana University in Bloomington. I am a Psychology major and would like to one day pursue Sports Psychology. This summer, I am interning with an NGO called Soccer for the Homeless. I help with fundraising and do research on multiple topics that include: homelessness and employment, mentoring and befriending homeless people, how sports positively impact the homeless community, and different projects regarding homelessness in Israel. I visited the local women's homeless shelter and attended one of the men's soccer team practices. The team will travel to Oslo, Norway this September for the Homeless World Cup. It has been any eye opening and meaningful experience, and I have learned a plethora of new things about homelessness in Israel and around the world.
In addition to my internship, I have been exposed to the diversity of Israel and its culture these past five weeks. I've traveled to Tzfat, the Negev, Beit Shean, and most recently, Jerusalem. Jerusalem is the Holy City and capital of Israel. Every time I visit Jerusalem, I feel a special connection to the history, land, and how it was built and still building. First, the group explored the City of David together. I trekked through the mile long water tunnel that was built by King Hezekiah. It was surreal to think that I was walking through a tunnel that our ancestors paved thousands of years ago. We then went to the Western Wall, where we had the opportunity to pray and channel our spirituality at one of the holiest sites. Afterwards, we enjoyed a classic Israeli lunch of falafel in the Old City.
In the afternoon, we went to the Israel Museum. We toured a portion of the museum and learned about the backgrounds of different pictures, pieces, and sculptures. The museum signifies the importance of Israeli and Jewish history and holds beautiful world-class artifacts. Next, we went on a scavenger hunt of the Nachlaot neighborhood to explore the narrow, old-fashioned area and understand the culture of the people who live there. It was neat to see an area and community outside of the Old City that has grown and prospered. To wrap up our day in Jerusalem, we had time to walk around the Mahane Yehuda Market, which is one of the liveliest spots in Jerusalem. I had a delicious meal for dinner called malawach, a fried Yemenite dough, stuffed with cheese and vegetables. It was a fantastic way to end an eventful day. Overall, the trip to Jerusalem was a wonderful time filled with arts, letters and culture as windows on Israeli life.
On Tuesday night, the group had a tour in Tel Aviv about the LGBT community in Israel. We first dove into the history of how homosexual couples were treated in biblical times. We then went through time and discovered how homosexual couples used to communicate in the 70s and 80s before cell phones, Internet and social media existed. Next, we talked to Israelis around the shuk (market) to learn the translation of LGBT phrases and slang in Hebrew. Personally, it was my favorite part of the tour because I enjoyed seeing how much knowledge local Israelis had regardless of their age, gender, or sexual orientation. We finished the tour with a couple additional stops in Tel Aviv, the last one being where the Pride Parade begins each June. The Pride Parade in Tel Aviv draws thousands each year. The amount of pride and support for and from the LGBT community in Tel Aviv is inspiring, and Tel Aviv fosters a culture of love, care, and support for every person through different programs and buildings dedicated to the LGBT. It was very interesting to see how opposite the culture and way of living is from Jerusalem to Tel Aviv in such a short time period. I am so grateful and thankful to have had these experiences, and I am excited to see what the final three weeks hold.
Please feel free to contact me at mschor@indiana.edu for any questions or more information about the Israel Experience, Onward Cleveland program.
---
Related Items