07/05/2017
Meet Mike: Internship Spotlight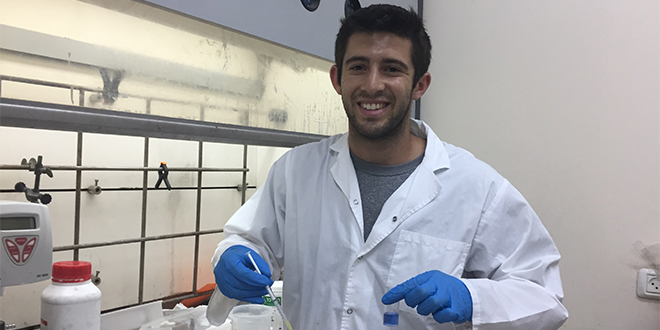 Onward Israel Cleveland participant Mike Posta shares his experience as an intern at MemTech.
My name is Mike Posta and I am doing my internship this summer at the MemTech. MemTech is a startup located in Ness Ziona that specializes in making advanced membranes for wastewater management and water filtration. The membranes they produce allow clean water to flow at a faster rate and at a lower pressure than products currently available, which reduces energy costs and makes them a more cost-effective product for customers to purchase.
My main project at work is developing the a more cost effective process for removing dissolved Calcium from drinking water using a process called electrolysis. The coolest part about this project is the freedom that MemTech has given me to make the project my own. They respect my ability as an engineer to problem solve and I'm incredibly eager to learn more as the summer progresses.
For me, it's really exciting to be able to see a real world result from my work, which is why I think MemTech's products are so interesting. Finding safe sources and adequate amounts of drinking water is a major problem in many developed and underdeveloped countries around the word. If by designing a product at MemTech, I could help people around the world obtain drinking water in a cheaper and more affordable manner, it would be the ultimate experience from a summer internship.
I can't wait to see how I grow professionally and personally this summer. Thank you, Onward for this opportunity!
---
Related Items