07/23/2018
Meet Rebecca Fleisher, Women's Philanthropy Associate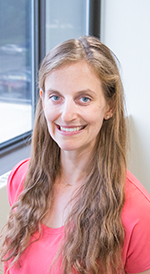 I'm excited to introduce myself to this wonderful group of generous, welcoming, and vibrant women! My name is Rebecca Fleisher and I am thrilled and proud to be the new Associate for Women's Philanthropy.
While I was born in Cleveland, I grew up in Dallas, Texas and have slowly made my way back to my Cleveland roots. I am a graduate of the Mandel School of Social Sciences at Case Western Reserve University with a Master of Nonprofit Organizations. I most recently worked as the Development Associate at the Mandel Jewish Community Center. Prior to the J, I was a fundraising associate for United Way of Greater Cleveland and danced professionally for six years. I live in Ohio City with my fiancé Ben and our dog Zoey.
I was drawn to this position because of the inspiring people engaged in Women's Philanthropy. At the Women's Philanthropy Spring Luncheon last May, I was struck by the commitment to the Jewish and Greater Cleveland communities through the wonderful work our lay leaders, volunteers, and community members.
I look forward to meeting and working with you! Please feel free to contact me at rfleisher@jcfcleve.org or 216-593-2873.