08/04/2017
Meet Sam: Internship Spotlight
Hi! my name is Sam Terkel and this summer I am working for Waves Audio.
Waves Audio is the world's most longstanding and well-respected developer of digital audio tools for professional and home recording studios, live sound, theater and broadcast applications, and consumer electronics. While their main markets are in the US, Europe, and other parts of the world, they were founded and remain headquartered here in Israel and will celebrate 25 years of business in October. The offices are located in the Triangle Tower at the Azrieli Center.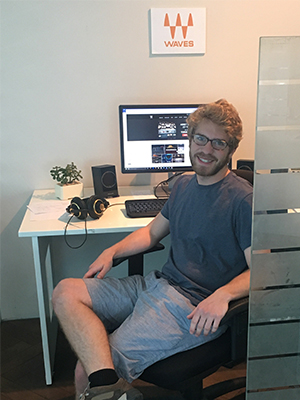 As a user of their products, it is an extremely valuable opportunity to see some of the processes in play that are used to deliver consistent, quality products to the industry and to be able to work alongside the developers and the content creators at Waves. So far, I have been editing content for their e-mail newsletters, conducting artist interviews with well-respected figures in music, redesigning a portion of the website, and helping to shape some forthcoming video content. Also, I am learning to implement best search engine optimization practices throughout the work I do.
The office environment is relaxed yet productive, casual but with high operational standards, and a shared passion for music and audio is felt throughout. It is exciting to build relationships here and to be able to contribute to a company who has shaped the production of music in the digital age and continues to advance the field.
---
Related Items